Kufuor's School Under Siege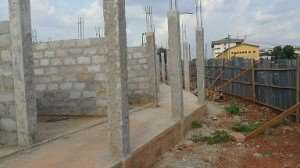 The Asem Cluster of Schools in Kumasi, which serves as the alma mater of former President John Agyekum Kufuor and the former United Nations Secretary General, Busumuru Kofi Annan, and other prominent personalities, is being destroyed.
Instead of a fence to protect the school from encroachment and intrusion by members of the general public, the Asem School is being converted into a market centre with the construction of stores and stalls surrounding it.
In the absence of a fence wall, the school compound is occasionally invaded by cattle and horses, which use it as a grazing field, coupled with the intrusion of miscreants, including 'wee' smokers, gamblers and criminals.
The Kumasi Metropolitan Assembly (KMA) is said to have entered into an agreement with Logwood Construction to construct market stalls on a Build, Operate and Transfer (BOT) basis.
Headteachers of the 17 cluster of schools say the ongoing construction at the school has the potency of dealing a devastating blow to academic life, as the quality teaching and learning had already been affected.
As a result, residents of Kumasi have appealed to the President to intervene and stop the KMA from destroying the Asem Cluster of Schools, saying the school should be preserved for its historical significance of nurturing President Kufuor and Busumuru Annan, among others.
They said whoever permitted the construction of market stalls at the school had done a great disservice to the beautification process of Kumasi, and that the unplanned development of Kumasi must be stopped without any further delay.