DCEs To Be Elected; Gov't Approves Constitutional Review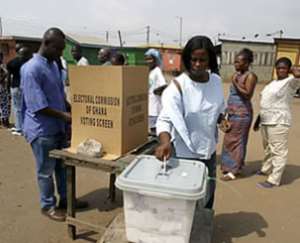 The government has announced that metropolitan, municipal and district chief executives will be elected through popular ballot by the electorate.
The new practice would be in line with the recommendations of the Constitutional Review Commission of which the government issued a white paper.
When implanted after the necessary legal framework, it would be a clear departure from the situation where the president nominated a candidate for approval by assembly members.
Mr Akwasi Opong-Fosu, Minister of Local Government and Rural Development, disclosed this yesterday, during a courtesy call on him by the Italian and United States of America ambassadors.
He said the proposed guideline for the election of district, municipal and metropolitan (MMDs) chief executives would be issued by government soon.
Mr Opong-Fosu said under this guideline, the president would nominate five candidates for the position of MMDA's chief executives.
He said the names of the nominees would be forwarded to the Public Service Commission.
The Commission would then do due diligence on their capabilities through thorough interviewing sessions.
Mr Opong-Fosu said the Public Service Commission would shortlist three candidates who would be presented to the electorates for campaigning election.
Mr Opong-Fosu said the election would be non-partisan as each candidate would be expected to contest on their own merit.
"This new direction is meant to enhance citizens participation without putting it into partisan contest", he said.
He said the government is introducing the system to ensure accountability and the citizen's participation in local governance.
He said government wanted to forge ahead with grassroots development through which the central government would provide the necessary input while the citizens contribute their quota by buying into local initiatives.
The minister said this was meant to create a win-win affair where the government achieves the goal of rural development by providing budget and initiatives whilst the locals support with broad participation.