Fire Service blames Assemblies for 2013 market fire disasters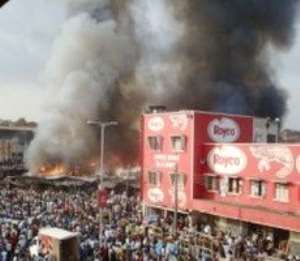 The Ghana National Fire Service has blamed its inability to adequately address fire outbreaks particularly in markets on district assemblies.
The Service says district assemblies across the country have failed to improve market structures and access points to the market in cases of fires.
The National Service has come under public criticism for its inability to fight and prevent fires in the country with over 500 fire outbreaks recorded since January 2013.
In an exclusive interview with JOYNEWS' Francis Abban however, the Acting Chief Fire Officer, Brigadier General J.B.E. Guyiri lamented the disregard for their concerns particularly to the district Assemblies. "I have to say that the phenomenon of market fires is an albatross around the neck of the fire service because all the markets in this country have no fire access" he said.
He also intimated that in spite of recommendations made following fire outbreaks in the Kumasi central market, authorities have not been responsive. He said "to be candid about the reactions, some of the stores have been reconstructed following the fire outbreaks, but it's the same story".
Brigadier General Guyiri also debunked allegations the service has been selling water meant for fighting fire, and gave the firm assurance that the Service will bring any fire officer caught in such an act to book.