Glaucoma identified as second cause of blindness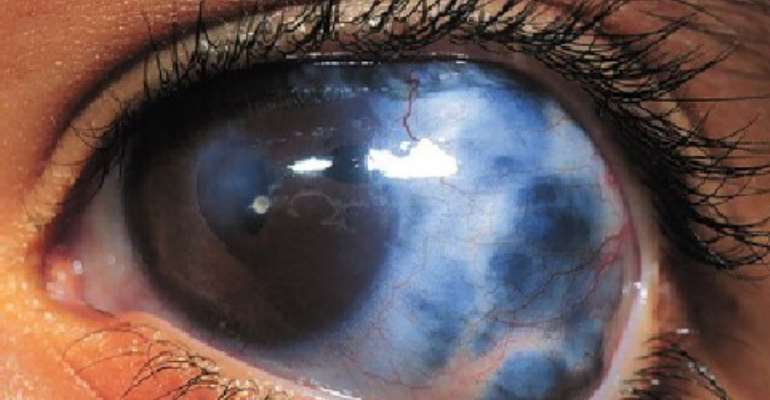 57444
Sunyani, March 11, GNA - Dr Benjamin Adu-Saforo, an optometrist, has said said glaucoma, an eye condition, has been identified as the second cause of blindness in the world.
He said Ghana had been identified in Africa with the high incidence of glaucoma and about 600,000 Ghanaians diagnosed with about 30,000 to 50,000 being blind.
Some risk factors of glaucoma are eye pressure, age, ethnic background, family history of glaucoma, medical conditions, severe eye injuries, long term use of some drugs on the eyes, short sightedness and long sightedness.
Dr Adu -Saforo of the Red Cross Eye Centre in Sunyani, speaking to the Ghana News Agency noted that 6.5 million people are suffering from glaucoma worldwide out of which 2.5 million are women.
It is estimated that 4.5 million people are blind as a result of glaucoma and expected to increase to 11.2 million by 2020.
Dr Adu-Saforo said two per cent of the elderly over 40 years are affected but due to the silent nature of the disease, 50 per cent of the people in developed world and more than 90 per cent in developing countries are not aware they have glaucoma.
He said the disease could not be cured and damage caused could not be reversed but early treatment and regular check up canprevent vision loss in people with early glaucoma.
Dr Adu-Saforo said if vision loss had already occurred, treatment could slow or prevent further vision loss, and called for regular eye check up, treatment of elevated eye pressure, good eating habits and wearing of eye protection to prevent getting glaucoma.
He said research had shown that antioxidant and other important nutrients could reduce the risk of cataracts and macular degeneration adding that Vitamin A protects against blindness while Vitamin C played a role in preventing or alleviating glaucoma.
Dr Adu-Saforo said good eye care habit could prevent many common eye problems and suggested that every child of school going age and persons above 40 years should undergo eye test at least once a year since some eye diseases are silent which would eventually lead to blindness if not detected in the early stages of development.
He advised the public not to use uncertified herbal preparation to treat eye conditions, read under dim light, rub the eyes when itching, bring sharp and harmful liquids close to the eye and stare too long at the computer and television sets to cause eye fatigue.
 
 
GNA