Central Africa rebels 'attack two towns'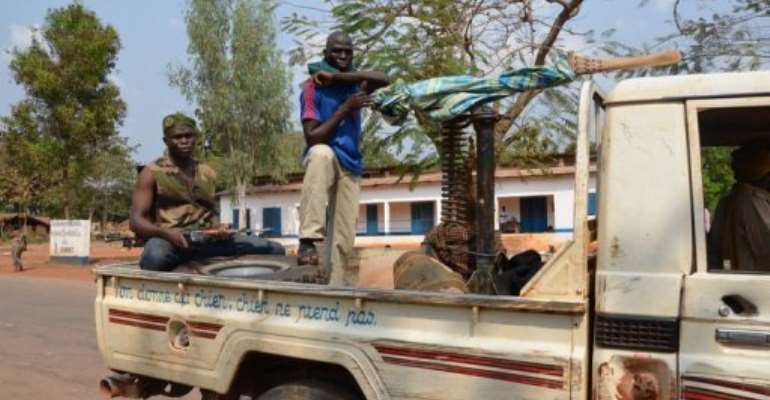 BANGUI, Central African Republic (AFP) - Fighters from the Central African Republic's main Seleka rebel group attacked two southern towns Monday, exactly two months after signing a peace deal with the government, a military source said.
"Seleka forces launched a first attack at around 6:00 am (0500 GMT) against the town of Gambo... They met no resistance because our troops retreated to Bangassou," an army officer said on condition of anonymity.
He said that the rebels later also captured Bangassou, which lies on the border with the Democratic Republic of Congo.
"The second attack occurred shortly before 8:00 am (0700 GMT) against the town of Bangassou. There was an exchange of fire, after which the defence and security forces pulled back," he said.
The officer said it was not immediately clear whether the incident had caused any casualties because all telephone lines in the area were down.
The Seleka -- which means "alliance" -- signed a peace pact on January 11 in Gabon's capital Libreville with President Francois Bozize's regime.
The accord mediated by regional leaders provided for a new government of national unity, which was formed and is now led by a member of the opposition, Nicolas Tiangaye, and includes Seleka members.
The deal ended a month-old Seleka offensive that quickly swept through the country's north and was stopped thanks in part to Chadian military intervention before the rebels could threaten the capital Bangui.
The peace pact has been fragile, with a similar incident occurring in late February when rebels attacked a northern town. The Seleka coalition later said the attack was the result of a misunderstanding.
Seleka has remained critical of the government since joining it, threatening to pull out of the power-sharing deal, accusing Bozize of running a parallel cabinet and so far balking on the key issue of troop billeting.