Four Perish In Spintex Road Accident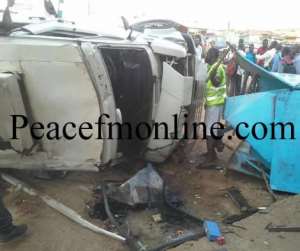 A White Spintex bound 23-seater 207 Benz bus with the registration number GN1239-09 from Madina a suburb of Accra, ran into the traffic light at the Kotobabi Junction on the Spintex Road killing four on the spot, eyewitnesses say.
According to an eyewitness, who only gave his name as Alex, the accident which happened around 6:30am Monday morning was as a result of a brake failure on the part of the 207 Benz bus driver.
He told Peacefmonline.com that; "The bus was full to capacity and moving at a fast speed but was unable to brake upon reaching the Kotobabi junction traffic light. The driver then lost control and in an attempt to avoid crashing into the back of the vehicle in front of him, he rammed into the traffic light and ran over two school girls in the process, killing one instantly...after which it run straight into a container kiosk across the road".
Three occupants in the 207 Benz bus and one pedestrian suspected to be a pupil died on the spot, while all the other passengers on the bus sustained various degrees on injuries.
The injured and deceased have been taken to the Inkoom, Lister and Sakumono Community hospitals.
The police is yet to commence investigations to ascertain the true cause of the accident.