Bosomtwi MP Launches First Ghana-Made Vehicle In Tema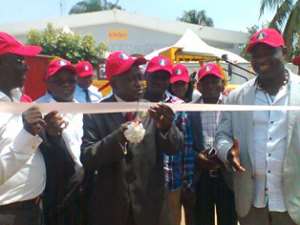 The Member of Parliament (MP) for Bosomtwi in the Ashanti Region, Simon Osei Mensah, has launched the first Ghana-made heavy duty vehicle, which was manufactured by Hansol Assembly Company Limited, a wholly-owned Ghanaian company, in China.
The assembly plant for the newly manufactured multipurpose heavy duty vehicle, known as Wontumi Grifon, which is suitably designed for all industrial purposes, including waste collection, agriculture, construction and mining, in the next two months would be moved from China to Dodowa.
The Wontumi Grifon has features of a hydraulic dumping system designed for self tipping, purposely to ensure easy operation, and to provide the best of comfort for drivers in discharging its content.
It has an average engine size of (Cc) of 2,977 diesel powered on four cylinders, with an average of 57 power (KW) capacity, with a mechanically clutched five gear system, amid power steering and oil and vacuum assisted brakes.
The average overall size of the vehicle and that of the bucket are 6,000mm (L), 2,000mm (W) and 2,450mm (H) and 3,400mm (L), 2,000mm (W) and 600mm (H) respectively.
Launching the Wontumi Grifon, Osei Mensah said he was very proud that a member of his constituent, who is the Chief Executive Officer (CEO) of the Hansol Assembly Company Limited, was the brain behind this success story.
According to him, he was going to do whatever he could to ensure that Ghanaians patronise the product, by first of all, buying two of the vehicles to work in his constituency, and later encourage his colleague MPs to do same.
Addressing the media, Mr. Bernard Antwi-Boasiako, CEO Hansol Assembly Company Limited, said the Ghana-made vehicle was designed to meet the needs of public institutions such as Metropolitan, Municipal and District Assemblies (MMDAs), tertiary and second cycle institutions, as well as private concerns engaged in waste management and agriculture.
He noted that the multi-purpose vehicle was designed by high calibre Ghanaian engineers, who adopted a four wheel drive (4WD) mechanism for easy and smooth galloping on muddy, slippery and rough road surfaces.
Mr. Antwi Boasiako explained that the vehicle, which comes with features of previous tractor models used in tropical and sub-tropical worst road conditions, has been tried and tested in Thailand, Malaysia, Vietnam, Cambodia, Indonesia and China, due to its compact structure 4×4 ability, tipping device and front winch.