NPP IS MAKING A MOCKERY OF DEMOCRACY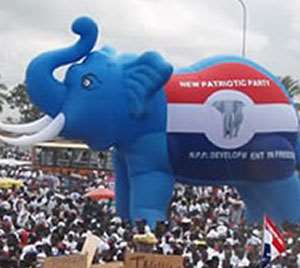 I feel very strongly that sometimes the conduct of the main opposition Party,NPP is making a mockery of democracy in Ghana. We take pride in our democratic dispensation and the way we conduct ourselves outside politics,especially in football when Ghana is playing. As a nation,we need Unity,Stability and development; freedom and social justice; tolerance and e...quality; peace and progress at all times.
We cannot achieve these high ideals if we simply do not let Parliament function. The Government and the opposition both have a sacred obligation to strengthen our parliamentary system. We do incalculable damage to the reputation of Ghana's Parliament if we resort to boycott of Parliament just to make a political point.
Those who prevent Parliament from functioning,turn to disable the voice of their constituents. They take away their right to hear their representatives debate an issues of their interest in a reasoned manner.They force their constituents to listen only to voices in the street, which is not the place for reasoned discourse.
Their conduct of late will lead us to a dysfunctional politics which will only produce agitational politics,deeply divided and disenchanted country.Their decision not to be part of the vetting of the president"s nominees is nothing but a mere political immaturity.
I am pleading to all right minded Ghanaians to stand up and unite against the forces of anarchy,disunity,and disruption to defend our hard earned democracy.
LONG LIVE GHANA!
Paul Boateng
[email protected]