Critical News: A Pain Full Budget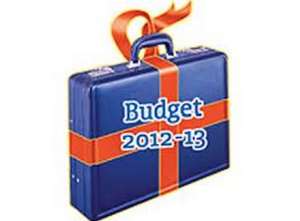 Here is my pain. First night of the week, Monday night. I get back from a day in the field and lights have been out since morning. Ok, we should have power back by 6.30pm, so I catch a quick bath and try and have supper with a simple beam of light. I am eating plantain and palaver sauce with fish tonight, heavy recipe for bone-in disaster, and wary of swallowing a bone and accidentally choking, I give up and decide instead to catch a quick nap and get some rest for when the lights come back on. I have a lot of work to deliver in the morning and I am determined not to call my client and say "sorry, oh, no light so I could not finish". By 10.30pm I still have no power, so I throw in the towel and go to bed. It is hot, it is humid and in the dark I am dripping with sweat. I toss and turn for hours and then it starts raining. A gentle drizzle at first and then huge torrents of it. What relief. The lights come back on. 3.45am. I jump out of bed, rush to the kitchen and make a cup of coffee. I settle down to work. A loud clap of thunder and a lightning strike; lights out. I am fully awake with my coffee and lost for words. My trusty internet router with battery power, mournfully blue-lights me, waiting for the signal to start a web search. I am a guest on Citi Fm on the breakfast show and I might just vent. Where did I go wrong? I sit in the dark, my temples pulsating with anger. For the first time since I returned, I wonder if the decision to come back home was the right one. Pain full.
So, this week it is all about the budget. Before that, the Supreme Court has set the date of 14th March to start hearing the Election Petition and another group of about 90 NDC party members have asked to be joined to the case. All this happens next week.
But, budget. In its technical application, the purpose of budgeting is to provide a forecast of revenues and expenditures, that is, construct a model of how we might perform financially if certain strategies, events and plans are carried out. It also enables the actual financial operation of the business to be measured against the forecast and it also establishes the cost constraint for a project, program, or operation.
A Budget helps to aid the planning of actual operations by forcing managers to consider how conditions might change and what steps should be taken now and encourages managers to consider problems before they arise. It also helps co-ordinate the activities of the organization by compelling managers to examine relationships between their own operation and those of other departments. Critically, a budget helps to control resources, communicate plans to various responsibility center managers, motivate managers to strive to achieve budget goals, evaluate the performance of managers and provide visibility into performance. This is a brief for why we develop a budget in the first place.
And none of these criteria was used by the Government in its 2012 budget mechanism. After it prepared the budget, it proceeded to ignore its purpose.
When the NDC Government, presented its budget to the Parliament of Ghana for approval of its planned revenue and expenditure for the year 2012, it had done the same in 2009, 2010 and 2011. In 2009 when it took over running government from the NPP party, the first salvo of criticism was about expenditure overruns and deficits inherited from previous years. In a direct eight-year to eight-year comparison, I pointed out that the NPP term between 2001 and 2008 was a better growth period and wealth expansion for Ghana than the previous 1993 to 2000 period of the NDC. Between 2001 and 2008 the economy grew six times, and most key indicators showed up better than the NDC era.
This week the Government announced that it had overspent its target by ghc8.65 billion. The full budget statement and appendices is here on the Ministry of Finance website.
Targeted revenues fell short of expectations and planned expenditures went way past the projections.
The runaway situation started after July 2012 when Government wisely went to Parliament to request an increase in spending as required by Article 179(8) of the Constitution and Standing Order 143 of Parliament. In his statement to Parliament, then Finance Minister Kwabena Duffour gave rational reasons for the request to increase his expenditure. These were no different from the explanations we hear now from the Mahama government.
What went wrong and why did the Government not return to Parliament to request additional spending for ghc8.65 billion? What made this Government think that it could simply borrow money from the domestic market through the Bank of Ghana and spend it without requesting a fiat from Parliament for the different lines of expenditure? And not provide any prior detail. The cost overrun represents 52% of the total income we generated in 2012. How do you spend that kind of money over five months in addition to ghc16.668 budgeted billion? Because it is an election year and no one is looking?
As a Ghanaian I can only express my anger with the way the economy has been managed and I feel cheated of a normal way of life. I now have to buy tanker loads of water, costing me five times more than I normally would spend. Power supply, of course we all know is impossible, but I am denied the opportunity to pay for survival services and deprived of everyday needs as if I was a common criminal. And my crime? Am I scared to speak out, afraid that if I do challenge the Government position I might lose my rights to associate freely in Ghana?
Many of us still cower from the ever-present palanquin of security services and their "orders from above" baton that wreaks havoc on families. I have had to "party" with National Security three times since I came back. Hindsight, I now realize it is our annual ritual.
The NDC talking heads are in the media selling John Mahama as a sincere and good leader who has the welfare of the people at heart. The President himself is touting that as an asset and is asking Ghanaians to work with his Government to solve the crises we face today. Did I cause this mismanagement? Did anybody elect me to manage this country? What we are seeing is inexperience at its best and massive corruption at its worst.
No Government has a right to spend the taxpayer's money without asking permission of those we have appointed as watchdogs to keep the managers in check. That the Government has been able to do so shows how weak our institutional safeguards are and how it is important more now than ever to take a very sober look at what we are doing. If it is possible for a Government to stray so easily from budgeted positions and we the mass of taxpayers did not see this coming until Government itself told us, where would we be if they decided not to say? Selling the point "at least we have been frank with the facts", is an insult to my intelligence. Telling me that I can expect a transparent government from now on is denigrating me to serfdom, as if I did not deserve transparency in the first place.
We have given up our right to demand accountable government by allowing Government to dictate the pace of our freedom and justice. We live a meaningless slogan because we have not learnt the fundamentals of democracy and we do not have mechanisms to impel Government to do our will. This budget is a pain full read. It has just showed me how very little control I have over my life in Ghana. I am not concerned about the numbers for now, I am disgusted with the poor governance through this corridor. Depressing week.
But, R2Bees put at least four songs in the top ten this week, with all their popular songs making waves on air and in the dance halls. Despite this, they did not knock Fuse ODG's Antenna off the top spot. This vibrant Azonto has really gone viral, new videos springing up every week. Energetic, and despite all the budget blues. Oh yes, African American tattoo punk Chris Brown came and smoked wee in our National Stadium. We did not arrest him and we have not invited his hosts to explain. He just did it because he could.
Ghana, Aha a ye de papa. Alius valde week advenio. Another great week to come!
Sydney Casely-Hayford, [email protected]