Ghana should not be a global consumer of nonsense – Palmer-Buckle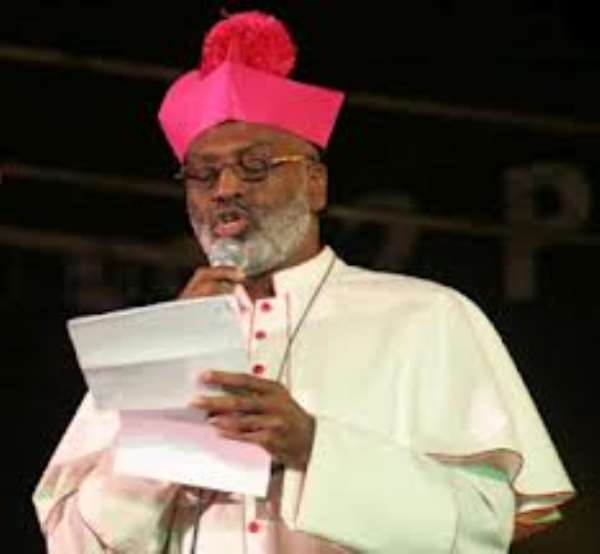 Metropolitan Archbishop of Accra, Charles Palmer-Buckle says Ghana should have the courage to protect its citizenry against what he calls the "global tsunami of consumerism" if the country is to play meaningfully on the global stage.
According to him, it is the duty of parents, teachers and the government to educate and mould children who can stand their own grounds and not be swayed to become victims of globalization.
The Archbishop has castigated acts of impunity by foreign nationals which, he says, degrades the moral fabric of the Ghanaian youth. He minced no words in condemning the unbridled activities of Chinese in illegal gold mining and the recent violation of Ghanaian laws by US entertainer, Chris Brown.
"Chris Brown comes to Ghana, he has tattoos all over his body like a billboard, he sings, he entertains, he smokes pot on stage; do you know how many people are already imitating that crap, that rubbish; global consumers of nonsense", he stated.
Most Rev. Palmer-Buckle has been speaking on the subject "The Global Citizen" at the grand finale of the Springboard 2013 Road Show in Kumasi.
Hundreds of residents in the Ashanti region participated in the annual event organized by Legacy & Legacy to empower the next generation of African entrepreneurs and leaders.
Global citizenship, the Archbishop noted, calls for global responsibility, adding that technology and scientific advancements should aid globalization but should not enslave people.
"Global citizens are not born; they are made so by how we educate them, by how we socialize them from infancy… Let us teach our children, our youth to become global actors and not just global consumers", said the Archbishop, emphasizing that children are assets hence the need to invest in them.
He charged the youth to cherish the uniqueness of their individuality and "to join all others to become global actors and not global consumers of global fashion and fad".
Global citizens, according to Archbishop Palmer-Buckle, are big dreamers who are ready to impact positively on society and are ready to pay the price to make the dream come true.
Other speakers at the "Going Global" forum including, MTN's Cynthia Lumor, Kwaku Sintim Misa (KSM) and Uncle Ebo Whyte shared inspiring moments with the participants.
Story by Kofi Adu Domfeh