Tema, Ashaiman Mark Independence Day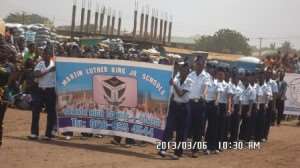 About 1, 320 school children, drawn from 20 basic and second cycle institutions in the Tema Metropolis, attended a parade at the Tema Sports Stadium to mark the 56 th Independence Anniversary celebration.
The Tema Metropolitan Chief Executive, Mr. Robert Kempes Ofosuware, who took the salute, spoke on the theme; 'Partnership and Innovation for Building New and Better Ghana.'
According to him, it was time for the Ghanaian to soberly reflect on how far the nation had come since independence, and find new and more sustainable, rewarding and meaningful ways of solving challenges facing the people, and the nation as a whole.
Mr. Ofosuware explained that there were two major areas, sanitation and revenue mobilisation, where the Assembly needs strong partnerships to deal with the situation.
He appealed to the residents to change their attitude in these areas, firstly, by avoiding the indiscriminate dumping of refuse for healthy environments.
He further revealed that the Assembly was also developing new sources of generating revenue to meet the ever-increasing demands of the city.
He stated that the Assembly had embarked on an exercise to clear the shoulders of roads in the central business area of the metropolis, to create an 'on and off 'parking area for vehicles, to help generate revenue for other development projects.
Also in Ashaiman, the Ashaiman Municipality Assembly (ASHMA) held its fourth edition of the Independence Day celebration at the Mandela Park to mark Ghana's 56 th independence anniversary.
In all, 47 contingents, made up of 11 primary schools, 16 junior high schools (JHS), 14 senior high schools (SHS) and six cadet groups, drawn from public and private schools in the municipality, participated in the parade.
The Ashaiman Municipal Chief Executive, Numo Addinortey Addison, assured residents in the municipality that he was aware of the challenges confronting the educational sector, saying, 'We shall do our best to tackle them until they are no more.
'We are committed to creating good infrastructure, and appropriate environments for teaching and learning. What we expect as a reciprocal from you, is to take advantage and learn very hard for better development.'
On his part, the Member of Parliament (MP) for Ashaiman, Alfred Agbesi, advised that the Independence Day celebration should not always be the usual marching, but projects must be initiated, so that years to come, it would serve as a stage worth beating our chests for.