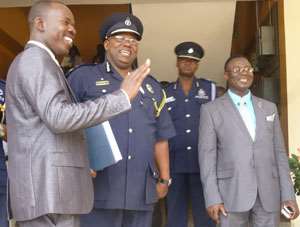 Mohammed Alhassan (2nd left) in a chat with Albert Antwi-Boasiako (left)
Though the acting IGP could not provide figures to support his assertion probably due to the lack of national data on cyber crime, he noted that the menace must be addressed.
Speaking at a training programme for 43 officers selected from the Criminal Investigation Department (CID) of the Ghana Police Service on cyber crime investigation and digital forensic, Mr Alhassan said the 2012 annual crime overview indicated that fraud, including cyber fraud, was pervasive in Ghana.
The report, he said, showed an upward trend of over 12 per cent as against other crime cases which showed downward trend.
He said in 2008, out of 241 fraud cases that were reported to the police, 125 were prosecuted with only 27 convictions.
This, he noted, was because of the uncooperative attitude of some victims, adding 'the challenge of the technical capacity of our investigators cannot be underestimated.'
He particularly cited Sakawa, a type of internet fraud used to defraud victims willing to make 'quick money' as the most prevalent among the youth.
'The menace has occasioned financial losses to so many individuals and organizations, most of which are usually unreported.'
The canker is threatening society and we must fight it as it not only dents the reputation of the country but also affects businesses and society as a whole, he noted.
The acting IGP said internet connectivity makes it easy for criminals to act beyond national boundaries and 'this requires a multi-stakeholder effort including governments, the private sector, civic and legal institutions and other social organizations.'
The Director General of the CID, COP Prosper Kwame Agblor noted that the training programme is part of a five-year national policing strategic plan aimed at restoring public confidence in the police service and improving its service delivery.
The project is a capacity building initiative between the CID and e-Crime Bureau, a cyber security and investigations firm, which began in May 2012 to build the capacity of detectives to deal with the emergence of e-crimes and related technology-driven crimes.
The project, apart from training the detectives for two weeks, would include the setting up of a training laboratory, the establishment of a cyber intelligence gathering system and the provision of a platform for cybercrime reporting.
Albert Antwi-Boasiako, founder and principal e-crime consultant of e-crime bureau, asserted that cybercrime goes beyond 'sakawa' and '419,' which constitute minor challenges that the CID seeks to address.
'In our age of technology, no contemporary law enforcement institution can effectively deal with the challenges of crime without the request knowledge and skills, without capacity, without the technology to investigate technology-assisted crimes.'
He called for the sustenance of the project and revision of the existing evidence act and also advocated the passage of a comprehensive cyber security and cybercrime bill to address cybercrime.
By Emelia Ennin Abbey