GGBL surprises Trades Minister with sample cassava beer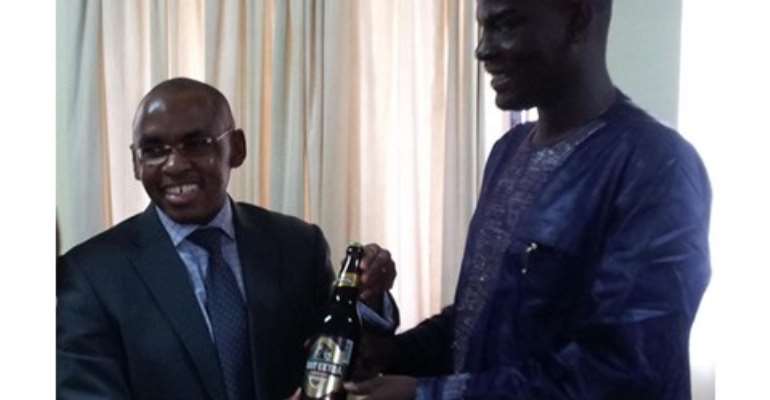 Guinness Ghana Breweries Limited (GGBL has presented samples of its cassava based Ruut Extra Premium Beer to the Trade and Industry Minister Haruna Iddrisu.
The beer which is brewed in Ghana contains 51% of locally sourced cassava.
This innovation was made on the back of the Local Raw Materials law which imposes concessionary excise duty rates on a sliding scale on the use of raw materials produced in Ghana in substitution of imported raw materials in the production of excisable goods.
It represents GGBL's continued commitment to the development of the communities in which it operates and its determination to partner government to improve the livelihoods of the indigenous people.
To this end, GGBL in January 2013, together with other players in the industry, sponsored representatives of the Ghana Revenue Authority, the implementing agency to understudy similar projects in Uganda to provide in-depth, on the ground knowledge on the implementation of the local raw material concessions, and their impact for the community.
Hon. Haruna Iddrisu commended GGBL on the introduction of a truly innovative product which would provide guaranteed uptake of cassava from local farmers thereby assuring their livelihoods. He underlined Government's intention to partner the private sector to revitalise industry and improve the lives of local Ghanaians farmers.
Presenting samples of Ruut Extra premium to the Minister, Peter Ndegwa, Managing Director of GGBL said: "We are committed to a local raw material project that has supported and continues to support more than 7,000 farmers and their families in the Northern, Upper East, Upper West and Central regions to improve their skills and thus yields; enabling sustainable incomes for farmers and their families. This results-driven breakthrough project has established a market for local raw materials which we map back into the Company's supply chain.'
Ruut Extra Premium Beer is the first of its kind ever to be produced in Ghana and is brewed from the very best local raw materials sourced from around the country; it is an authentic beer with a pleasant aroma and a distinctive refreshing taste. It is bottled in a stylish 625ml bottle with a distinctive gold
metallic label and has an ABV of 6%. Ruut Extra Premium Beer has been developed specifically to satisfy what Ghanaians are looking for in a premium beer.