Is this the world's most awesome taxi?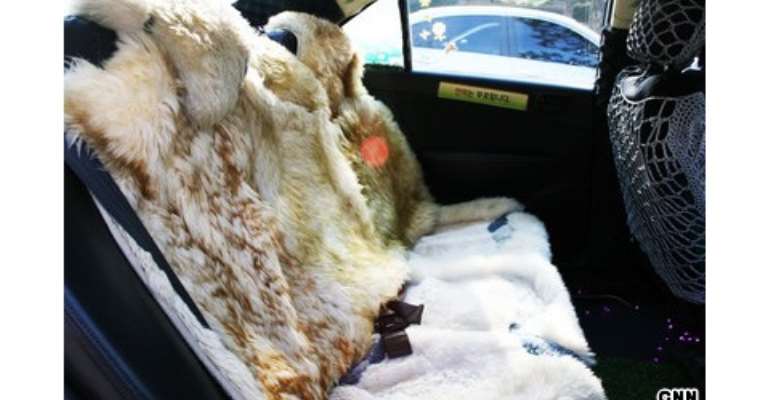 It was a dark and stormy night.
I'd been working late. Thankfully, a taxi was waiting in front of our building.
Climbing in, I gave the driver my address and closed my eyes.
"Would you like a massage?" said the driver from the front seat.
Crap. It was finally happening to me. To me!
I'd survived four years in Manhattan without a mugging, but Seoul was going to get me.
I stealthily reached for the door.
"I said, would you like a massage?" he said again.
Before I could cannonball out of the moving car, something amazing happened.
The back of my seat began to poke lightly at my shoulders. Then it began massaging my lower back. Then up and down my spine.
It felt good. Absurdly good. What the hell was this?
I looked around the cab, which from the outside had looked like any other Seoul taxi.
No ordinary cab
The ceiling was wallpapered with a gaudy but cute flower scheme. There were little bunches of Christmas lights under the driver's seat and I could hear a steady trickle of running water.
I looked down. The pleasant gurgling was coming from a mini-fountain next to my feet. The fountain had a turning water wheel and … live goldfish?
A sign anticipated the question forming in my mind: "Massages are free."
Taped above it were newspaper articles about the cab, with photographs of the driver with Korean politicians and television personalities.
I'd been weary minutes before, but with the massage and this bizarre cab, I felt wonderful.
Who was this driver and why couldn't all the cabs in the world be like this?
I knew we had to talk.
Man with a plan
Drawing on an extensive background in mechanical engineering and management, taxi driver Chung Nok-hyun, 66, has a grand proposal.
If he has his way, all the taxis in Seoul would become what he calls "garden taxis."
Following his own cab, the city's taxis would be outfitted with flowers, grass, live goldfish, massage seats and a mini-karaoke machine (he does the singing in his own cab, upon request).
After retiring seven years ago from a career as director of a local electronics company, Chung began driving a taxi. He bought a massage device online for US$200, cut a large hole in the backseat and installed the device by hooking it up to the car's electrical system.
"It was quite easy for me because I am comfortable with electronics and machines," Chung says. "My passengers are always enthralled and I've had many people tell me it would be a wonderful tourism draw to change all the cabs in Seoul to be like mine."
One passenger wrote to the Seoul government telling them about the cab, suggesting they work with Chung on developing a venture.
"I hope the Seoul mayor will hear my idea," says Chung. "This will make Seoul taxis famous in the eyes of the world."
Chung has already filed for an international patent, which his lawyer says will come through around May.
Chung's vision doesn't stop at just taxis.
"I want to work with Hyundai and Kia," he says. "I think it would help cars sell more if they were like mine."
What's the next addition for his "garden taxi"?
"I'm installing a laptop so that my passengers can have Internet," says Chung. "People wonder if having so many electronic devices installed in the car uses up more gas, but the electrical system is completely separate. The gas bill isn't affected."