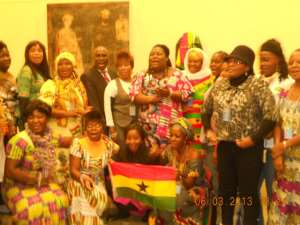 OYE AND OTHERS New York, March 7, GNA - Ghana and South Africa have initiated  a mechanism for sharing notes on gender mainstreaming and gender budgeting in order to build a broader scope for developing an African agenda.
Both countries have rolled out a legislative process for passing a law on gender. Whilst Ghana is working on passing the Affirmative Action bill into law, South Africa is working on Women's Empowerment and Gender Equality Bill.
Nana Oye Lithur, Ghana's Minister of Gender, Children and Social Protection noted that Ghana's draft Affirmative Action Bill sought to ensure progressive representation in parliament, district assemblies, boards of corporations and institutions within the public services, in strict compliance with the legal obligations imposed on the government under the 1992 Constitution.
She made these remarks  during a meeting with the South African Minister of Women, Children and People With Disability, Ms Lulama Xingwana on the sidelines of the on-going 57 session of the United Nations Commission on Status of Women in New York.
She said  President John Dramani Mahama on assumption of office in January this year had already initiated modalities and commitments for the passage of the bill into law, by appointing accomplished women into his Cabinet.
'Women are holding key portfolios in the Government of President Mahama, whilst others are serving as heads of governance institutions and corporate bodies, preparing the grounds for the passage of the Affirmative Action bill,' Nana Oye Lithur stated.
The Minister stressed the need for the two countries to share notes as 'it has become necessary for African countries to adopt regional gender sensitive legislation because globally, women have found themselves to be under-represented in governance and at most decision-making levels and Ghana's situation is not any better despite the fact that women  constitute 51 per cent of the population'.
Ghana's Affirmative Action bill is being championed by the Ministry of Gender, Children and Social Protection in collaboration with political parties, civil society groups and Ministries, Department and Agencies (MDA's), and aims at ensuring that there is fair representation of women in decision-making positions across the country.
Advertisement
Ms Xingwana explained that the South African bill is an all-encompassing Draft Women's Empowerment and Gender Equality Bill which seeks to serve as a vehicle to achieve substantive equality.
'It addresses women's representation and participation from the political sphere to the workplace. It is s an example of women in politics making a difference,' she stated.
The South African draft legislation has been approved by cabinet and is currently undergoing public consultations. The draft sets targets and milestones to be achieved by 2015 in line with the SADC Protocol on Gender and Development.
Its main objectives are to give effect to the letter and spirit of the Constitution, in particular the values of human dignity, the advancement of human rights and freedoms, non-racism and non-sexism, by providing for women's empowerment to achieve gender equality and gender mainstreaming in the public sector, private sector and civil society.
The bill details legislation that will be affected, ranging from political to societal, education and workplace laws; setting of targets for such representation and participation; building women's capacity to participate; and developing support mechanisms for women within one year of the date of commencement of the Act.
Ms Xingwana said if enacted, the Draft GE bill will go a long way to ensure that women were able to realise their full potential in both their public and private lives in line with the SADC Gender Protocol.
 
Caption:
 
DSCN5182 - Nana Oye Lithur, Ghana's Minister of Gender, Children and Social Protection in a discussion with Ms Lulama Xingwana, South Africa's Minister for Women, Children and Persons with Disabilities on the sidelines of the on-going 57 session of the United Nations Commission on Status of Women in New York.
 
(From: Francis Ameyibor, GNA Special Correspondent, New York)