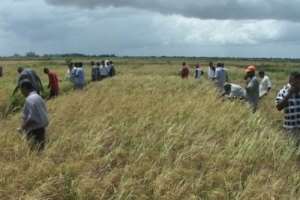 Bolgatanga, March 7, GNA - Rice farmers in the Fumbisi Valley of the Builsa District have appealed to the government to extend the services of the National Food Buffer Stock Company to Fumbisi.
A rice farmers' group, Ateel-taaba Farmers of Gbelimbisi, made the call at a one day stakeholders' workshop on the absence of NAFCO purchasing outlets at Fumbisi held in Bolgatanga.
The Secretary of group, Mr. Eric Dalaba, said over the years members of the association as well as other farmers in the Fumbisi Valley had been denied the services offered by NAFCO.   
He said because NAFCO had established its purchasing point at Bolgatanga, which is about 90 miles away from the Fumbisi Valley, the farmers either had to transport their produce at very high transportation cost to Bolgatanga to sell to NAFCO or are exploited by middle persons making them gain nothing.
'Apart from that the deplorable nature of road makes the drivers to charge us higher before transporting our produce to NAFCO in Bolgatanga,' he said.
Advertisement
The farmers said the Fumbisi Valley is a major producing point of local rice in the Upper East Region and that if government pays special attention to it it would help improve the living standards of the people.
Alternatively, the farmers are calling on the government to ensure that NAFCO contract food traders to buy on its behalf by using standard weighing scales at standard prices.
The Secretary commended Business Sector Advocacy Challenged Fund (BUSAC Fund) for providing them with funding and noted that this had empowered them to organise advocacy programmes.
Mr Ernest Aayel, BUSAC Service Provider, said the interest of BUSAC is to empower small scale business organizations and stressed the need for the government to come to the aid of the farmers.
He said research conducted by BUSAC revealed that the farmers had no market for their produce and are exploited and appealed to the Ministry of Food and Agriculture to offer training on   best farming practices to farmers.
 
GNA