Hague court postpones Kenyatta trial to July 9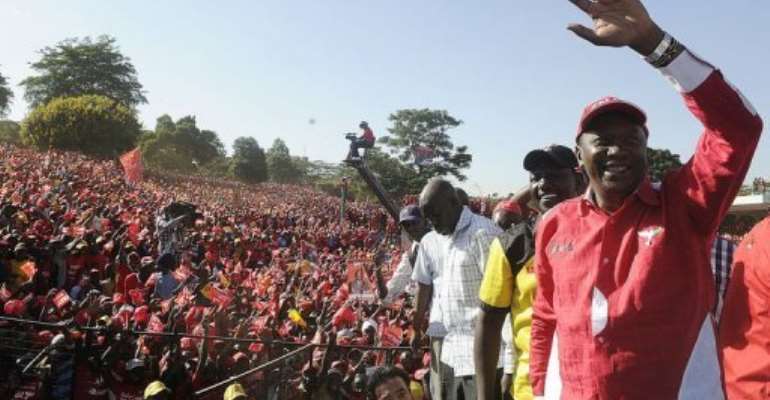 THE HAGUE (AFP) - The International Criminal Court on Thursday postponed the trial of Kenya presidential election frontrunner Uhuru Kenyatta on charges of crimes against humanity until July 9.
It said "serious issues" may not be resolved before the initial April start date of the trial over Kenyatta's alleged role in deadly violence that followed the 2007 elections in Kenya.
Lawyers for Kenyatta and his co-accused, civil servant Francis Muthaura, asked the court last month to send the cases back to the court's pre-trial chamber after a key prosecution witness withdrew a statement, casting doubts on the strength of the prosecution case.
Judges on Thursday said they decided "to grant the defence teams' requests, to which the prosecutor did not oppose, and to postpone the opening of the trial, setting a new date provisionally for July 9, 2013."
The defence's submissions "raise very serious issues that must be resolved before the trial can proceed," the judges said.
Kenyatta, one of Africa's richest and most powerful men, is currently in the lead after Monday's polls in the east African country.
But accusations of vote-rigging and complaints about the counting process -- one of the causes of the 2007-2008 violence -- have thrown this week's election into disarray.
The dispute over the counting process in 2007 erupted into weeks of deadly violence that left more than 1,100 people dead and prompted the ICC prosecutor to open a probe.
Both Kenyatta and his running mate in Monday's election, William Ruto, face crimes against humanity charges including orchestrating murder, forcible transfer and persecution in the poll's aftermath.
Lawyers for Ruto, who is grouped with another co-accused, radio boss Joshua arap Sang, have also filed a request to have their case postponed from its initial start date of April 10.
A decision "will be issued in due course," the ICC judges said.