NATION WON'T PROPER …In Atmosphere Of Political Squabbles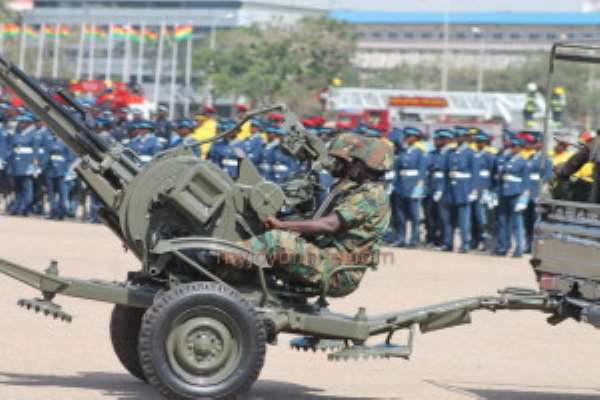 President John Dramani Mahama has urged all Ghanaians to work together to build on the gains and sacrifices made by the country's forebearers, even as the country strives for economic emancipation.
Mr. Mahama said efforts towards building the desired state do not solely rest on the shoulders of a single individual, but on the entire citizenry. "… The liberation of an entire nation cannot rest solely on the shoulders of a single individual.
'Even after a goal has been established by a designated leader, it takes the dedication, focus and work of millions before movement and progress can take place".
Addressing the nation at a ceremony to climax the 56 th Independence Anniversary celebration at the Independence Square in Accra, Mr. Mahama added that the attainment of the national goals and aspirations were only possible, if the citizens put together synergy and bury behind them petty political squabbles that tend to divide the country.
'We cannot waste any more time and energy in petty political squabbles and insults, and expect that our country will still somehow magically prosper.'
The President paid glowing tribute to the millions of Ghanaians whose bravery, sacrifice and patriotism built the foundations of a free society in the country.
"Today, we remember those millions, all of the founding fathers and mothers who organised and sacrificed the millions of brave men and women who fought and died to give this country, and indeed, all of Africa, freedom from colonial domination and repression.
'Some of them have been recognised; their names and faces are on our monuments and on our money. A greater number will most likely remain nameless and faceless.
"But the people that made up those millions, those men and women were our grandfathers and grandmothers, our uncles and aunts, our mothers and fathers, our sisters and brothers. It is because of the courage, self determination and dignity they displayed that we stand here today, on this occasion, the celebration of Ghana's 56 th year as an independent nation."
Every Ghanaian, he said, should endeavour to brighten the little corner where they find themselves, in the effort to achieve the country's developmental goals.
"I urge you all to reflect on how you will want to be remembered by the next generation. It does not matter who you are, where you come from, who your parents were, what you do right now, what your position in society is.
'You have something to offer that will help move this country forward to its next anniversary. It might just be a little change in your attitude to work; it might be an offer of help, however small, to others who need it. It might be the act of mobilising for community action, or volunteering at a hospital."
He acknowledged that the country was currently going though some difficult times, in the areas of energy efficiency, poverty reduction, illiteracy, diseases and many others, but said there was light at the end of the tunnel.
On the current energy and water crises, the President appealed to Ghanaians to remain resolute and use the available energy judiciously, as efforts were being made to generate more.
"Fellow Ghanaians, while we await the complete resolution of the utility problems, I wish to make a personal and passionate appeal to you, my countrymen and women, to demonstrate a high sense of individual responsibility, by taking a stand against the abuse and misuse of water, electricity, and other public services," he appealed to Ghanaians.