Rigging claims throw Kenya polls into chaos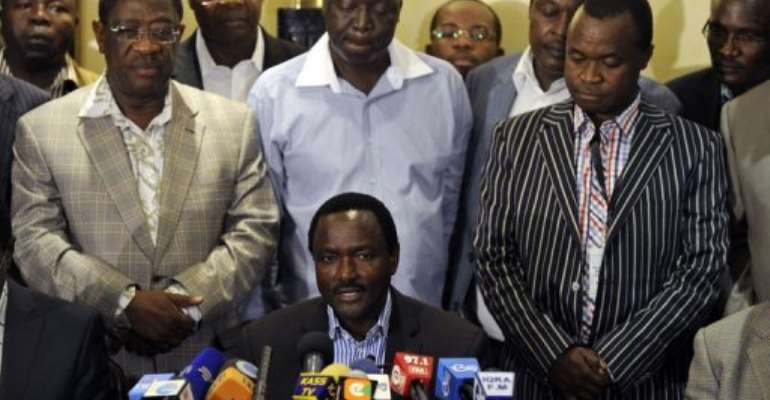 NAIROBI (AFP) - Kenya's critical presidential election was plunged into further disarray on Thursday after the party of one of the leading candidates alleged vote-rigging and demanded that the count be halted.
The accusations by Prime Minister Raila Odinga's running mate came a day after his chief rival, Deputy Prime Minister Uhuru Kenyatta, protested at the inclusion of spoiled ballots in the vote count, a process that could increase the chances of a second round runoff.
Monday's elections in the regional powerhouse were the first since 2007 when a dispute over the counting process erupted into weeks of deadly violence that left more than 1,100 people dead.
"We have evidence that the results we have received have been doctored," Odinga's running mate, outgoing vice president Kalonzo Musyoka, told reporters, adding that in some cases "total votes cast exceeds the actual number of registered voters."
Odinga says he was robbed of victory in the last polls in 2007 when disputed results triggered the bloody ethnic killings.
But Musyoka urged calm, stressing that his accusations were "not a call to mass action" and that the party was "committed to the principle of rule of law".
"Because of these concerns, we as a coalition take the position that the national vote tallying process lacks integrity and has to be stopped," Musyoka said, demanding that "primary documents" from polling stations be used.
Kenyatta, who faces a trial at the International Criminal Court on charges of crimes against humanity over the 2007-08 violence, held a clear lead as counting continued Thursday, with almost half of estimated ballots cast so far tallied.
As of 0900 GMT, two and a half days since polls closed, Kenyatta had won 54 percent of valid votes against 40 percent for Odinga, according to official results relayed by Kenyan media.
Both Kenyatta -- one of Africa's richest and most powerful men -- and his running mate William Ruto face charges of orchestrating murder, rape, forcible transfer and persecution in the aftermath of the 2007 elections.
Concerns have been raised at the widespread failure of a system under which the electoral commission had been broadcasting running tallies based on encrypted text messages received from polling stations.
Leaders have urged calm after hitches caused an electronic tallying system to stall, forcing the Independent Electoral and Boundaries Commission (IEBC) on Wednesday to start reading out results delivered in person by returning officers.
-- Parties vow to follow legal process --
Kenyatta's party has also raised major concerns over electoral process.
Party official Charity Ngilu said Wednesday that the inclusion of mountains of spoiled ballots in the count was motivated by a "sinister and suspect" logic.
Initial results sent electronically showed that the spoiled ballots made up more than five percent of votes cast, greatly adding to the number needed for a candidate to break the 50 percent threshold for a first round win and increasing the prospect of a runoff due within a month.
However, official results showed a far lower number of rejected ballots counted -- more than 38,000 so far on Thursday, according to Kenya's Citizen TV, as opposed to the several hundreds of thousands reported in interim results.
No explanation has yet been given for the difference.
"All of a sudden, because of this manual delivery of tallies, there is a tremendous reduction in the number of spoilt votes," Musyoka said.
Partial results from over 4.6 million votes -- from a total of 14.3 million registered voters -- showed that Kenyatta had won more than 2.4 million against almost 1.9 million for Odinga.
To win outright and avoid a second round, a candidate must win more than half of all votes cast, according to the constitution, as well as at least 25 percent of votes in more than half of all 47 counties.
IEBC chairman Ahmed Issack Hassan has said official results are expected on Friday, although legally the commission has until Monday to deliver the tallies.
Odinga and Kenyatta -- the son of independent Kenya's founding president -- have publicly vowed there will be no repeat of the 2007-08 bloodshed.
But the trials later this year at The Hague-based ICC for Kenyatta and Ruto have raised the stakes in the election race: should they win the vote, the president and vice-president could be absent for years.
Kenya has been largely calm in recent days apart from isolated incidents of violence.