MP Roots For Nana Addo
For Nobel Peace Award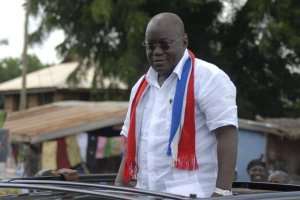 Nana Addo Dankwa Akufo-Addo
For his maturity in politics and understanding of democracy, the fight for human rights, mediating in conflicts within and beyond the borders of Ghana, and for a law abiding citizen, the New Patriotic Party (NPP) 2012 Presidential candidate, Nana Addo Dankwa Akufo-Addo, has been nominated for the 2012 Nobel Peace Prize Award, with over five million subscribers across the world and still counting.
Speaking to the Front Page Newspaper, the honourable Member of Parliament for Komenda/Edina/Eguafo/Abrem (KEEA), Dr. Stephen Nana Atto Arthur, who nominated Nana Akufo-Addo, and is leading the crusade for the award to be conferred on him, said his NPP's 2012 flagbearer has all it takes to win the Noble Peace Award, compared with other others who had won it before.
The MP noted, while reading the citation on those who had won it before, that Nana Addo has the same qualification or even done more to deserve the award.
Nana Atto Arthur narrated, "over the years, since 1901, over hundreds of individuals who have won this prestigious noble peace prize, reading through the citation, they are people who have fought for democracy, rule of law, mediation of conflicts and if you look at three, four decades, Nana Addo Dankwa Akuffo-Addo has really promoted rule of law, fought for grass roots in Ghana and outside Ghana, Cote d'Ivoire, Liberia, and Sierra Leone when he was the Foreign Minister".
He continued that the last significant issue was the 2012 general election when the majority of Ghanaians knew that Nana Addo had won the election, but the Electoral Commission controversially declared John Mahama as President of Ghana.
"Over five million Ghanaians wanted to take to the streets, but this same man, Nana Addo, said 'no, I don't want any blood to spill, there is window of opportunity' and he is using the Article 64 of the Ghana Constitution, which binds everybody to use the Supreme Court in matters of such issue for settlement", Nana Atto noted.
The legislator representing the people of KEEA noted that but for that singular act by Nana Akufo- Addo, Ghana would have plunged into civil war, as had happened in other countries across the world, especially in Africa.
Citing Kenya, Liberia, Cote d'Ivoire, the MP said those country went through war by the same means, adding that if Ghana had been spared similar ordeal, then it means Nana Akufo-Addo had contributed significantly in promoting the peace being enjoyed now in Ghana.
"Upon, this I nominated Nana Akufo-Addo to be considered as winner of this Noble Peace Award winner in the year 2012", he added.
Dr. Nana Atto Arthur revealed after he had nominated Nana Akufo-Addo to be considered as winner on the internet that a lot of people around the world were signing onto it, adding that was what had encouraged him to champion that cause in Ghana so Nana Akufo Addo becomes winner of the prestigious award.
He concluded that he had gone through the citation of some the previous winners, like Sir Leaf John, Nelson Mandela, Bishop Desmond Tutu, Barrack Abama and others, and realised they all fall in line with what Nana Akufo-Addo had stood for over the years.
The Noble Peace Prize Award is a prestigious award given to individuals who have excelled in a particular field and helped in promoting democracy, rule of law, mediated conflicts and in promoting peace to the world.
The winners are nominated by Members of Parliament from various countries all over the world, governments of states, University Professors in Law, Sociologists, philosophers, Historians and Members of Peace Committees.