President Mahama calls for collective efforts in nation building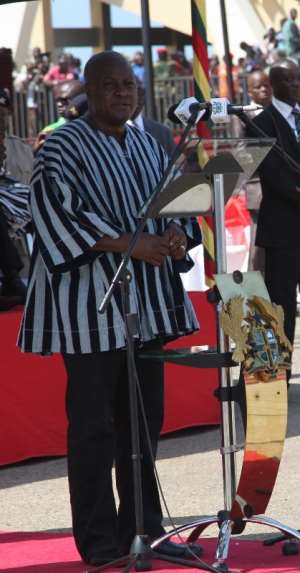 Prez Mahama Addressing
Accra, March 7, GNA - President John Dramani Mahama has called on Ghanaians to marshal all efforts together to fight for economic freedom just as the past leaders did to liberate the nation from political suppression.
He said, 'the time for bickering, petty squabbles are over', adding that it was time for every citizen, regardless of his or her personal circumstances, picked up whatever tool available to him or her and join the fight against poverty, diseases, and deprivation still retarding the nation's development.'
President Mahama made the call when he delivered his maiden Independence Day address to the nation at a ceremony to climax the 56th independence anniversary celebrations at the Black Star Square in Accra.
'We cannot waste any more time and energy in petty political squabbles and insults and expect that our country will still somehow magically prosper', President Mahama stated.
He said any time the citizenry spent their time and energies on things that distract attention from the national goals, 'we undermine the progress of our own nation; a nation that was built with the blood, tears and sweat of our forefathers and mothers.'
He said as a president he had a role to play in the development of the nation, but that it would take the collective energies of every individual's talents in the country to achieve Ghana's developmental goals.
'Each and every one of us has a responsibility to make a meaningful and constructive contribution towards the growth and betterment of this nation; we owe that much to ourselves and to our children who will inherit this land and we owe that much to all those who fought for us to have a place to claim as our home,' he stated.
Whilst it was the responsibility of government to build social and economic infrastructure to provide the citizenry with adequate social protection and economic opportunities, government's efforts would come to naught 'unless we take collective ownership of the challenge that faces us', he added.
 
GNA