Ghanaian delegation in New York marks Independence Day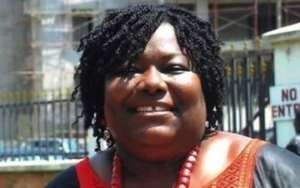 Nana Oye Lithur
New York, March 7, GNA - Ghanaian delegation attending the United Nations 57th session on the status of women on Wednesday marked the 56th anniversary of Ghana's independence with the singing of the National Anthem and other patriotic songs at the UN headquarters.
Led by the Minister of Gender, Children and Social Protection, Nana Oye Lithur, and other members in national colours, they marked the day in a special way that attracted the international media and other nationals in New York to join Ghana to celebrate.
In a short address, Nana Oye Lithur urged Ghanaians to use the Independence Day celebration to reflect and move forward in unity for the attainment of a 'Better Ghana,' irrespective of their political affiliations.
'We must move away from divisive politics and focus on national development. Ghana must set new political and economic agenda for Africa. It is time to support each other for development. The pull him/her down syndrome must come to an end with the celebration of the 56th Independence Anniversary.
'For the past 56 years, we as a nation have gone through interesting and challenging times, democratically, economically and socially. We are of age and must face our destiny and move forward hand-in-hand for development of a better Ghana'.
Nana Oye Lithur in an interview with the Ghana News Agency, used the occasion to commend President John Dramani Mahama, late President John Evans Atta Mills, former Presidents Jerry John Rawlings, John Agyekum Kufuor, for the roles they had individually played to strengthen the pillars of the fourth republic.
'I use this day to salute the pillars of the fourth republic and also commend the founder of the nation, Osagyefo Dr Kwame Nkrumah, as well as Dr Hilla Limann and Dr K. A Busia for their roles in building the state called Ghana,' Nana Oye Lithur stated.
Other members of the Ghanaian delegation attending the UN session are leaders from civil society organization, Members of Parliament, Public Service personnel, and media practitioners.
 
 From Francis Ameyibor, GNA Special Correspondent, UN New York