Seven policemen injured in Bimoba-Konkonba clash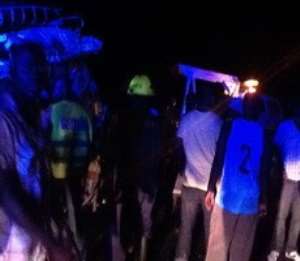 Clashes between Bimobas and Konkonbas have resulted in the injury of seven police officers, three of whom are said in critical condition.
A group of youth fired gun shots at a police team that was patrolling the Northern regional town of Kpemale to maintain peace.
The clashes led to the destruction of 30 houses, displacing many. Other properties were also destroyed.
Northern Regional Crime Officer, Superintendent Alhaji Mahama Arhin said the two ethnic groups have been at loggerheads over some parcels of land. He added that any minor misunderstanding was enough to spark attacks.
On Tuesday evening, he recalled, an armed robbery incident occurred at Kpamali in the Bunpurugu/Yunyoo District which resulted in the firing of gunshots. The two groups, suspecting each other of planning the attack mobilized themselves on Wednesday morning for reprisals.
He said nine policemen and two military officers went to the scene and prevailed upon the Konkonba youth to withdrew. He said they withdrew only to be attacked by another group associated to Bimobas.
In the process, 30 houses were destroyed alongside other belongings.
Alhaji Arhin said an AK47 riffle and a locally manufactured pistol were retrieved from the Bimobas. He stressed that both groups were using sophisticated guns.
Superintendent Arhin said more personnel have been deployed from to control the situation.