Appiah To Invite Ayews For Sudan Match?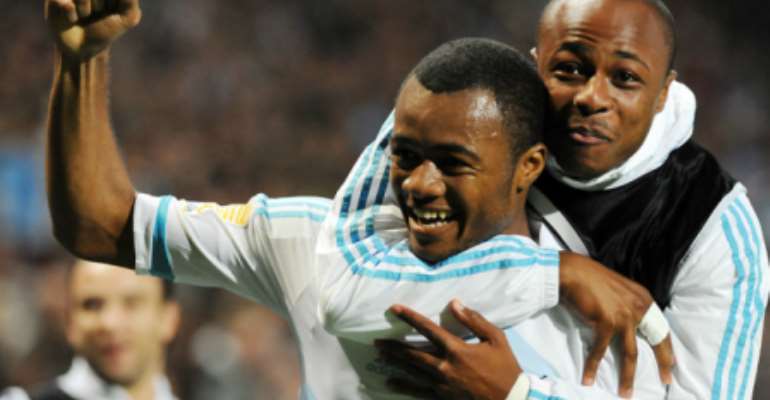 As Coach Kwasi Appiah prepares to name his final squad for Ghana's World Cup qualifiers against the Sudan on March 24, there are strong indications he would invite Andre and Jordan Ayew in spite of a request by the brothers to be excused from national duty for some time.
Last week the Ghana Football Association (GFA) rejected the request by the Olympique Marseille duo who caused a storm by writing separate letters to the GFA citing personal reasons for their surprise request for exclusion from national assignments.
Following Ghana's disappointing performance at the Africa Cup of Nations, there was strong demand from the media for the return of the influential Ayew brothers who are in fine form at their French club Marseille. And strengthened by the GFA's refusal to grant the Ayew brothers their request, Coach Appiah, who is facing an arduous task of reviving Ghana's World Cup campaign with a win against the Nile Crocodiles in Kumasi this month, plans to extend an invitation to the brothers who were controversially dropped from Ghana's Nations Cup squad.
GFA's Communications Director, Ibrahim Sannie Daara, told the Graphic Sports yesterday that coach Appiah would extend an invitation to all players available, including the Ayew brothers.
"The Ayew brothers are important players to the national team, and like all players available for selection, Coach Kwasi Appiah will not shut the door on any player," said Sannie Daara, without stating emphatically whether the Marseille duo will be part of Ghana's team to face the Sudan in Kumasi. he feels
He explained that the GFA refused to heed to the Ayews' request because they were as important as any players in the team, insisting that the circumstances which compelled the GFA to grant similar requests in the past to Michael Essien and Asamaoah Gyan were different from the situation the Ayew brothers found themselves.
Meanwhile, a close source to the Ayews have hinted the paper that the players were planning to officially respond to the FA's letter before the close of the week.
The GFA spokesman stated also that the Black Stars management had not made new overtures to Kevin-Prince Boateng to end his self-imposed exile from the national team as was being speculated.
However, he insisted that the doors of the team had not been shut on the AC Milan player but his re-admission into the team would be hinged on his commitment to the national cause.
"He must show he is committed by playing in the qualifiers", Sannie Daara said.
"Either than that, I don't think he would have the temerity to say he want to play for the team when it qualify for the World Cup" he said, saying even the players wouldn't be happy about it".