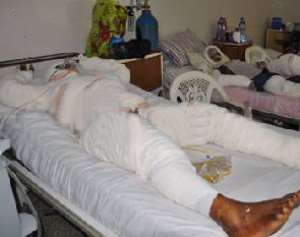 Dora Dunyo, the 34 year-old lady who was set ablaze by her lover is currently in coma at the Burns Centre at the Korle-Bu Teaching Hospital.
The lady, who is in a critical condition, sustained serious injuries when her boyfriend, identified only as Bismark, with the aid of petrol, set her on fire together with the wooden structure which housed them in an uncompleted house near the Trassaco Valley Estate at Adjirigano, Accra.
Bismark gave up the ghost later at the hospital.
DSP Stephen Kofi Ahiatafu, Adenta District Police commander, told DAILY GUIDE that the police were yet to ascertain the cause of the incident and were currently awaiting the resuscitation of the victim to obtain information.
"We do not know what actually brought about the problem. We are yet to find out from the victim, who is still unconscious," said DSP Ahiatafu.
He said a complainant who gave his name as Pastor Deku reported the incident on Thursday, February 28, 2013.
According to the Adenta commander, the pastor who lived close to the couple, at about 12:30am heard the victim shouting for help and went to her aid.
He said with the help of some neighbours, the victim, whose whole body was burnt, was rushed to the Legon Hospital.
Though the incident happened at dawn, the police could not ascertain why it took the complainant close to 17 hours to report the case.
However, DSP Ahiatafu said the police proceeded to the scene of the incident "and we saw the debris of the burnt kiosk and some personal items."
He said the police followed up to the Legon Hospital where the victim has been admitted and was receiving treatment.
Two hours later, a search party found the lover of the victim on the compound of a nearby house with several injuries. "He was very weak so we took him to the Legon Hospital but before the doctors could attend to him, he passed on," DSP Ahiatafu said.
He explained that information gathered so far indicated the suspect poured petrol on the victim and got his attire partly soiled with the flammable substance and might have caught fire.
The victim was said to have tried escaping by scaling the wall of an uncompleted house close by.
The Adenta commander stated that the body of the suspect has since been deposited at the Police Hospital for autopsy, though doctor's initial report said he was 80 percent burnt.
The Legon Hospital, which does not have a burns unit, later referred the victim to the Korle-Bu Hospital where she is presently on admission.