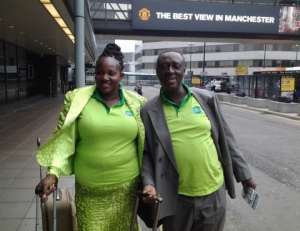 Mr. Samuel Kweku Omari, winner of Glo Mobile Ghana's Best Dealer award for 2012 and his spouse, have flown to Old Trafford, home of the champions of the English Premier League, Manchester United, on an all-expense-paid trip to the United Kingdom.
In a special package put together by Glo Mobile Ghana, Mr. Omari, Managing Director of M Power Pack and his wife, Blendina, will be guests of Manchester United for four days and will undertake a guided tour of Old Trafford and interact with players and officials of the team.
On January 25, at the first Glo Dealers' Appreciation and Awards night which hosted some 66 accredited Glo Mobile Dealers from all over the country, Mr. Omari's Accra-based M Power Pack, emerged the dealership which bought the largest stock of Glo products and had as his prize, a fully sponsored round trip to the UK, a guided tour of Manchester United FC's facilities and scheduled engagements with players and officials of Manchester United Football Club.
'Being a Glo Dealer is as much fun as it is serious business. Our cherished customers extend their appreciation for the products to us and it helps to build a relationship which is in the mutual interest of the customer and our businesses,' an elated Omari told journalists at the airport before boarding a KLM flight for the UK.
'My trip is a demonstration of appreciation beyond comparison, and I am most grateful to the Management of Glo for the support they have given me and my business so far,' he said.
Asked how he feels about going to Old Trafford and meeting the stars, Mr. Omari, an ardent Manchester United fan retorted: 'Manchester United have always represented the ultimate team to me. Win or lose, I like their discipline and their fighting spirit. Like Glo, they are natural winners - destined to be number one. It's for the same reason that I'm with Glo'.
A strategic alliance concluded two years ago between the African communications giant, Globacom Limited, and the leading club in the English Premier league, Manchester United paved the way for the two great brands to synergize and promote their brands on each other's turf. The partnership serves to consolidate Globacom's already impressive record in sports development in West Africa.
The Ghana chapter of this Alliance was launched in August last year, when Glo invited Manchester United's legendary goalkeeper, Peter Schmeichel and officials from Old Trafford to grace the occasion.