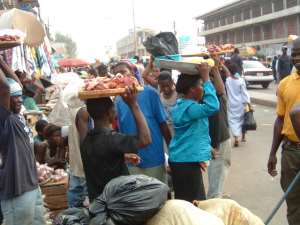 COMMENT: After 56 years, hawkers still rule our streets
After 56 years of Independence Ghana still prides itself with the importation of tooth pick, t-rolls, catapults, bicycles, rice and almost everything.
Indeed, our fore fathers at this very juncture may be weeping in their graves…Nkrumah's Ghana?
As we celebrate Ghana's Independence Day, another tragedy has befell the continent.
Another African hero has fallen.
One of the Revolutionary messengers of our dear continent, HUGO CHAVEZ…But their dreams are still alive and relevant today!
This is a brief ''piece from my peace of mind'' on Ghana's 56th anniversary Celebration.
It is interesting, Ghana was the first African country south of
the Sahara to attain independence on the March 6th, 1957.
As I write today, some other nations where far behind Ghana as at then but same cannot be said today... Indeed, ''the first shall become the last'' probably.
So many school of thoughts would quickly blame the Great Osagyefo and the other great men for our current woes.Most of the infrastructures built by our fore fathers clearly tells it all, Per the quality and its durability up to date.
Recent infrastructures built by today's leaders ''politicians'' cannot even stand the test of time.
Now, i always choose to describe Dr. Kwame Nkrumah as a path finder, the torch bearer and the pace setter of our geo-socio-economic-politico setting as a nation.
Indeed, his great achievements for mother Ghana and Africa in entirety far outweighs his weaknesses / flaws as a visionary Leader. Truth Stands!
To a larger extent, this is a man who was never guided by any past President's mistakes / weaknesses yet steered the affairs of this great nation.
Successive governments and Leaders of today have no excuse to fail us. Fortunately, we have a history to guide us granted past leaders failed us.
I need not be an ''NKRUMAHIST'' before i understand the ideology of such a great man gifted unto mother Ghana amongst all its children.
Every citizen can clearly see the difference between today's generation. The challenges today may be different since society is dynamic but much can be done.
Poor Leadership or may be deliberate disregard for the right mechanisms to be putten in place for progressive development.
Ghana's development pace, seemingly impeded and stagnant upon all the good economic indicator analysis we are preached about, the acclaimed successes chalked cannot even be felt in our living conditions, with our rural folks most pitiable. My proud village ''Boo-Lawra'' in the upper West region of Ghana is no exception.
Relatives of mine who are in their 40's and 90's in that village have NEVER seen light before ever since they entered this part of the world. What pride do we take in that as a nation after 56 years of independence?
56TH ANNIVERSARY???
A journey that began with our great-great grandfathers priceless sacrifice via ''blood shedding'', with fierce struggle that has liberated Ghana and Africa from the shackles of Colonial Oppression.
Although colonialism has taken different forms today, ''21st Century Colonialism'' I call it. Ghana and Africa now has an enviable record of consistently ''begging'' turning to the West for aid in every sphere of our economy. A recipe for disaster.
SCHOLARSHIPS!!! A trend that hugely benefited AFRICAN past leaders to study abroad in the same institutions Abraham Lincoln, Martin Luther King, Lee Kuan Yung, President Obama, and many others studied.
Most of our African leaders studied in the same Universities with our white folks and the so called advanced nations yet our leaders seem to lack ideas and must always seek for their attention before we make progress?
We have the brains, we have the men, we (AFRICA) control about 80% of the entire resources in the world yet we are highly under-developed?
There is no denying the fact that our leaders are not doing much to solve national problems.
How about emulating the success stories of the advanced nations? South Korea is a classic example in this analogy.
Our democracy is still crawling. We can only consolidate our democracy when we crown excellence over mediocrity, when we tolerate divergent views without victimization and antagonisms, when we embrace meritocracy over favouritism / nepotism, when we share the national cake evenly, when we allow the media and other state institutions to indepenently perform its mandated duties constitutionally.
Partisanship is the ''new game'' in town. Nationalism is now relegated to the background ''you chop some I chop some'' syndrome. How far can we go as a nation with such practices?
Such leaders or political actors are the ones who make the game of politics dirty.
Times without number, i kept educating people around me, that the assertion ''politics is a dirty game''' is a complete fallacy. In fact, our leaders and for that matter the politicians or the MP's, Ministers or any other political actor are the one who make politics dirty. For politics it self is not dirty, rather they make it dirty. Many people still hold such misconceptions. Is like a game of football you can choose to play it clean or dirty.
The advanced nations whom we admire so much and seeking to emulate does things differently, hence, they develop.
Objectivity has now become a ''taboo'' in Ghana. The truth when spoken would by all means favour one party or the other, hence, if it goes in favour of party Z then you are labeled as such.
As a nation we have now gotten to a point where ''politics has become even ticker than blood'' .
Little attention is given to the substance of an issue. Africa must change and develop!
It is so interesting and at the same time disheartening how many of our African Politicians think only in terms of their own political party interest and worship partisanship politics. They blindly support the actions of their governments of the day even when they know that a certain policy or an action is wrong, thus not in the interest of the state.
Annually, the anniversary has been celebrated at the national level with a parade of school children, security service personnel and some other identifiable bodies at the Independence Square while our regions and districts replicates the same event at the local level.
I kept asking, how relevant is this celebration? Considering of our current state of affairs, especially my rural folks whose condition kept worsening every minute.
After 56 years, our rural folks still sharing the same water source with other animals? No LPG, No Lights, High fuel prices, unprecedented salaries and Luxurious living conditions for Members of parliament to the detriment of the ordinary Ghanaian who wakes up at dawn to queue for hours under the scorching sun just to cast a single vote with the hope of making the right decision.
Yet electoral promises yield no result, now reduced to a mere cycle.
Our fore fathers on whose ''blood and toil'' we are enjoying freedom today, perhaps would be weeping in their graves.
It may be considered relevant perspectival, because of the blood our forefathers shed, a day to commemorate and narrate our historical journey to independence. Undeniably, it's a day for our fore fathers.
Honestly, we could have done better as a nation after 56 years of independence.
Interestingly, Billions of dollars spent on political campaigns, an amount that could have totally transformed the lives of so many villages / rural communities.
I always weep within when political party's tend to mobilize resources and within a fast pace construct or renovate the roads, repair or connect electricity to neglected areas. Simply because a party congress or event would be held at such locations.
So we have the ability to do things but it is just a deliberate neglect or could it be a misplacing of priority?
Ghana must change and Develop! Upon all the experts / professors in physics, chemistry many of whom were sponsored by the tax payers money. What is actually preventing us from making a headway in the energy sector?
Our Energy crisis as a nation kept worsening. Developing a solar system even for our traffic lights/ street lights alone is also left in oblivion. Whiles the unforgiving scorching ''sun'' kept starring us in the face 24/7.
In Ghana's chequered history as an independent country, if there is one sector that the country never seems to get its finger round it, a.k.a. ''dumsor dumsor'' that is the energy sector; perhaps due to its huge importance as a primary driver of economic growth.
Mother Ghana deserves better from me and you. Our fore fathers contributed their quota significantly. It is our turn now to walk the talk.
Africa Must Develop!
Happy 56th Independence Day!!
God Bless our Homeland Ghana!!!
www.richardzinleri.wordpress.com
[email protected]