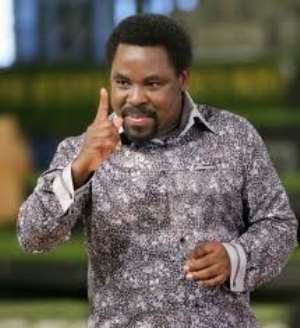 Watching things from the back of some church gives me a much clearer picture. I am able to see and hear things I never thought our men in religious costumes could say or do.
Of late reports have surfaced that the Zimbabwe go deeper man told a woman who attended his partner's conference that she should not go to Nigeria to see Prophet T. B. Joshua because according to him (Prophet Angel), all he (T.B. Joshua) does is to predict when the next African president would die. He added that the only place where she would hear the truth was in his church.
Several eye witnesses have come forward to testify to the authenticity of these allegations. The go deeper man further boasted that it was T. B. Joshua who always phones him.
T.B. Joshua's response on the other hand, has been responsibly mature. In response to an email from a troubled face book fan of his, he said that he had received over twenty emails from people informing him of the same thing. He however said he leaves all such things in the hands of God as the battle is not his, but God's.
The pew man will not act as judge to tell you who is right and who is wrong. That is left to readers to draw their own conclusions. As you make those conclusions, have the following facts on the table. These are all men of God. They all perform miracles.
They all heal the sick and what have you. Prophet Angel is in the middle of a "miracle money" scandal in which he is accused by the Reserve Bank officials of illegally putting money into circulation.
Advertisement
The source of that money is also controversial. He prays for people and some just discover there is money in their pockets or their bank accounts.
Some may find no reason why the above should be our concern. May they be reminded that the Zimbabwe go deeper man is a spiritual father to our own go deeper boy? It won't be long before we begin having our own miracle money and all the rest.
The question is, was it necessary for the Zimbabwean to attack T.B. Joshua, and on air for that matter? Are we not seeing an emerging scuffle for customers, developing between and among the prophets?
May be this is the reason they are spending quality air time parading their international guests to tell the world about the wonderful hospitality accorded them. I won't be surprised to see them engage professional PROs and Marketing executives to attract the religious tourists.
In conclusion, I would like to appeal to our religious heavyweights that any conflict between and among them confuses bench warmers like me. It's also important for them to know that in religious matters, we have no competitors but colleagues. May the Zimbabwe go deeper man be reminded that the seasoned Nigerian has already demonstrated his maturity and has outclassed him.
This may have a bearing on his customers (sorry for the painful but truthful term) and may force him out of the god industry. From the back of the church, may I commend the Nigerian Senior prophet for maturely taking the steam out of this unprovoked skirmish? As the Major Prophets are going deeper, the Senior Prophet should go higher.