S.Africa memorial service for man killed in custody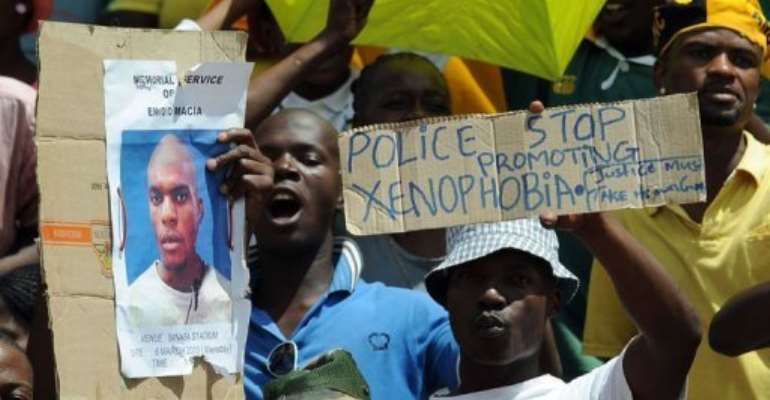 DAVEYTON, South Africa (AFP) - Friends, family and supporters held a memorial service Wednesday for a Mozambican man who died in custody after being dragged behind a South African police van, an incident that again threw the spotlight on the much-maligned force.
Around 1,000 mourners gathered at the sports stadium in Daveyton, the town east of Johannesburg where 27-year-old Mido Macia died on Tuesday last week.
The noisy remembrance was laced with anger, with the mix of Mozambicans, South Africans and other immigrants angrily booing police representatives out of the stadium.
Shocking footage showed the Mozambican taxi driver being manhandled, handcuffed to the back of a police van and dragged hundreds of metres to a local police station.
Just over two hours later he was found dead in his cell.
A post-mortem found he died from head injuries and internal bleeding.
The bail hearing for the eight police officers charged with his murder will start Friday.
Mourners at the memorial sang and held posters of Macia while several people carried a woman by her arms and legs, imitating the now infamous images of his abuse.
One man held a poster with the words "Police stop promoting xenophobia. Justice must take its course".
At one point the crowd sang "Umshimi wami" (Bring me my machine gun), a Zulu struggle song known to the many Mozambicans who have lived as migrant workers in South Africa.
The song is laden with symbolic meaning. Once a standard rallying song of president Jacob Zuma, it is now being employed against the ANC-led government.
"I'm here because they took away my brother," said Mandla Ncube, a 29-year-old immigrant from neighbouring Zimbabwe.
"Police tell themselves they've got power," he told AFP. "They treat us badly," he added, bemoaning violence against foreigners in Africa's largest economy.
The crowd echoed his sentiment, loudly cheering a local schoolgirl who spoke out against police violence in a poem.
"This isn't the first time they killed," she said.
News of Macia's death spread quickly online and sent shockwaves throughout the country, the latest in a long history of violent incidents involving South African police, including the killing of 34 mineworkers during wage strikes last August.
Several members of Macia's family and friends who had travelled from Mozambique sat with officials on the pitch of the football field.
His father Jossefa was expected at the memorial but did not attend.
One of Macia's neighbours said his death had "devastated" his father.
"As family and friends we just want justice," Gugu Gumede, 25, told AFP.
Thinking of her friend, Gumede said she would miss "the jokes we used to have, his smile".
Representatives of South Africa's ruling African National Congress, Mozambique's ambassador and members of its ruling party Frelimo also attended the memorial, as did Nelson Mandela's wife Graca Machel who was cheered by the crowd.
Mozambicans revere Machel as widow of their liberation hero and first president Samora Machel.
"Mama Graca" said the "level of anger and aggression in South Africans is far deeper than we realised."
South Africa had to find a way to heal "a society that is bleeding and breathing in pain," she told journalists.
Mozambican high commissioner Fernando Fazenda called on his country's people not to retaliate with violence.
"Mozambicans should stay calm, should stay patient, and distinguish between one group of ill-intentioned people and the rest of the South African people," he said.
Local minibus taxi associations also sent delegations, who blamed the ANC for the incident.
"If government and officials of government continue to regard the taxi industry and the people as rubbish, how then can you expect something different from the police!" Francis Masitsa of the National Taxi Association told the crowd.
South African authorities have pledged to help repatriate Macia's body to Mozambique. He will be buried outside the capital Maputo on Saturday.