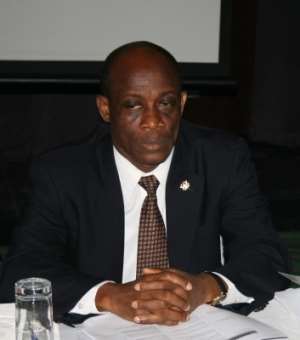 Government will this morning present its budget for this year to Parliament. This is expected to be the blueprint by which it will carry out its 'Better Ghana' Agenda and reduce economic hardship in the country.
The 2012 Budget was highly tipped to address the wide infrastructural deficit in the country to sustain growth, create more employment opportunities, improve income and standard of living of Ghanaians.
However, the state of nation at the moment cannot be said to be what government promised in its budget for last year themed, 'Infrastructural Development for Accelerated Growth and Job Creation.'
Seth Terkper, Minister of Finance & Economic Planning is expected to, among other things, enlighten Ghanaians on certain projects government highlighted in the 2012 Budget.
These include the construction of two harbours at Elmina and James Town and 12 landing sites at Axim, Dixcove, Moree, Fete, Mumford, Winneba, Senya Breku, Teshie, Ada, Keta, Abotoase and Dzemeni.
This paper could not find the landing sites promised in the towns aforementioned neither was there any sign of the harbours at James Town and Elmina.
Government also mentioned that it will expand the Agriculture Subsidy Programme to include liquid fertilizers (bio-fertilizer) and improved seeds, and also distribute 165 metric tonnes of chemical fertilizer and 800,000 litres of liquid fertilizer to farmers in 2012, adding that the National Food Buffer Stock Company will acquire another rice mill with a capacity of about 8.5 metric tonnes per hour to be located in the Upper East Region. However, it is only government that can explain what has become of such projects.
Again, government promised to construct the first phase of the Accra Plains Irrigation Project, which covers an area of about 5,000 hectares, as well as the irrigation dam at Mprumem. It also promised to  establish a Fisheries College at Anomabu in collaboration with the University of Cape Coast in the Central Region and establish a fish processing plant at Elmina but nothing concrete has been heard on this to date.
It is not known what has become of projects such as the extension of electricity supply to 1,200 communities in the Central, Western and Brong Ahafo Regions, 400 communities in the Upper West Region, 106 communities in the Ashanti and Brong Ahafo Regions and 500 communities in the Northern and Upper East Regions.
It also pledged to construct 150,000 cubic meter capacity tanks for gasoline, diesel and kerosene storage for the BOST Petroleum Terminal in 2012 while also it promised to construct LPG satellite storage depots at Kumasi, Savelugu and Mami Water (on the Akosombo-Ho Road).
'Government will provide 4,000 new boreholes countrywide in fulfillment of its promise in 2010 of providing 20,000 boreholes over the next 5 years; Hydrocol Ghana Limited and Befesa Agua of Spain will start the installation of the 60,000m3 sea water desalination plant at Teshie to improve water supply to the area,' government specified in its 2012 Budget.
Mr Terkper is expected to answer questions on these projects before he lists new projects for 2013.
Advertisement
Also, it noted: 'Government will facilitate private sector companies to commence the construction and delivery of safe, decent and low income affordable housing units; the Takoradi Port Expansion Project and the Multi-Modal Transport Project that links the Tema Port by rail to the Volta Lake will be undertaken under the CDB Facility. Coastal fishing harbours and landing stages will be provided under the CDB.'
The reality on the ground as of now determines how far government is poised to carry out its intentions.
Other targets that government set for itself included using the US$3.0 billion loan facility from China Development Bank (CDB) to reduce the infrastructural deficit of the country.
Specific projects identified to be funded were Accra Plains Irrigation Project; Coastal Fishing Harbours and Landing Sites Project; Tema-Akosombo-Buipe Multi-modal Transportation Project; Western Corridor Gas Infrastructure Project; Helicopter Surveillance Fleet for Western Corridor 'Oil Enclave'; Development of ICT Enhanced Surveillance Platform for Western; Corridor 'Oil Enclave'; Western Corridor 'Oil Enclave' Road Re-development Project; and Western Railway Line Modernization.
In 2012, government's fiscal operations resulted in a deficit of GH¢8.7 billion (12.1% of GDP), against a target of GH¢4.7 billion (6.7% of GDP).
It explains the higher than budgeted fiscal deficit is as a result of a shortfall in corporate income taxes - GH¢708.2 million (1.0% of GDP); excess payments in respect of the SSSS - GH¢1.9 billion (2.7% of GDP); higher interest cost - GH¢245 million (0.3% of GDP) and higher utility and fuel subsidies - GH¢339 million (0.5% of GDP).
The stock of total public debt stood at GH¢33.5 billion (46.7% of GDP) in 2012, compared to GH¢24.0 billion (42.6% of GDP) in 2011.
The stock of domestic debt was GH¢18.5 billion in 2012 compared to GH¢11.8 billion in 2011.
By Samuel Boadi