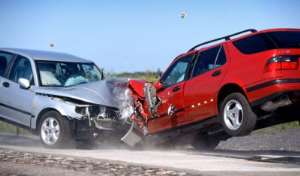 The bloodshed on our roads continues almost unabated. The Central Region has for the past two weeks witnessed more bloodshed than most parts of the country and we wonder what could be happening that is earning for that part of the country this unenviable notoriety.
People in the Central Region should not allow their adrenalin level to rise anyway because, after all, the rising statistics of road accidents are a countrywide reality and not limited to their region only.
When breadwinners, women and children lose their lives in such avoidable accidents and some of them becoming incapacitated for life, it is a very serious matter that should engage the attention of all players in the maintenance of safety on our highways in particular, and the rest of Ghanaians in general.
We acknowledge the various interventions to reduce the incidence of accidents on our highways and particularly mention the Ghana Police Service, National Road Safety Committee and others who have all done their best in that direction.
Their contributions notwithstanding, accidents continue to make frequent headlines and we dread the time when such stories would cease to make the front pages because of their frequencies. We pray that point is not reached. It is our wish that our highways become relatively safe with marked reduction in accidents.
We have editorialised on this subject for some time now, yet sanguinary accidents continue to taunt us with their frequencies as though the country has been hit by an ominous spell. It would seem that commercial drivers are the worst defaulters of road traffic regulations.
We think that our road traffic regulations must be reviewed, especially the accompanying sanctions, with a view to stemming the high incidence of road accidents, some of them fatal.
It is unacceptable that many people would lose their lives during trips on our roads, something which was rarely the case many years ago, ironically when our roads were in their worst states.
Since most of the accidents involve commercial vehicles, it is our take that attention be directed more to this category of Ghanaians than those in the private category.
Sometimes, merely looking at persons plying our roads is enough to raise suspicion about their quality. With little or no knowledge about road signs and zero literacy rating for most of them, we must be deceiving ourselves when we expect decency in their driving.
Little wonder some persons have suggested that the issuance of commercial drivers' licence be restricted to persons with the ability to read road signs and express themselves in basic English.
It would not be difficult to take such persons through periodic refresher driving programmes. We wish this were the last time we would be editorialising on this subject. We would have been elated.
Unfortunately, it might not be so since there are many more unreasonable persons, many of them illiterates, behind the steering wheels on our highways, than those with their heads on, as evidenced in wrongful overtaking when they can hardly see clearly the opposite direction.