Kumasi Girls hit by devastating rain storm; 300 students affected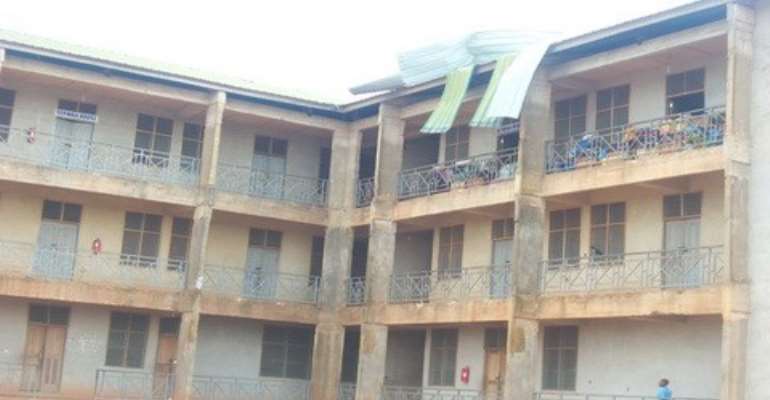 Over 300 students of the Kumasi Girls Senior High School are without shelter on campus following a rain storm which ripped off the roof of their dormitory block.
Last night's wind destroyed almost two-thirds of the uncompleted GET fund building which houses about 1000 students, leaving victims traumatized.
It comes just 24-hours after authorities organised the school's 50th anniversary durbar where Director of Institute of Educational Development and Extension at the University of Education, Winneba and guest speaker, Dr. Kwame Asante solicited government's support in tracing contractors of abandoned projects.
But memories of the Golden Jubilee anniversary which was under the theme "development of girl child education for national development; the role of Kumasi Girls School at 50" is short-lived as the school is hit with the disaster.
Headmistress, Mary Kraah-Ampofo, had appealed to the Ashanti Regional Coordinating Council to pursue the contractor on the dormitory project.
Albat Construction firm has, since 2004, abandoned work though government has honored all certificates.
Ms Kraah-Ampofo told the gathering of the Golden Jubilee on Saturday "a student dormitory project awarded to Messers Albat Company in 2004 is in limbo. For 3 years in succession he has never shown up in the school. Dead or alive, I hope the powers that be, will ensure the completion of the said project to ease congestion in our dormitories," she lamented.
She also mentioned Joe Poku Construction Ltd for having abandoned a 12-unit classroom block project which contract was awarded in 1999.
School authorities improvised to put the uncompleted building to use by accommodating newly-admitted students for the current academic year.
Now the students have unpleasant stories to tell as they carried their soaked belongings into the open for drying.
"I was very, very afraid so I started crying and the rain dropped inside the rooms". A form one student said.
"My things got wet; my mattress, school bag, books everything got wet so right now, I am having only my uniform". Another worried student said.
Part of the ripped off roof remains hanging on the structure, and authorities are worried this poses threat to life.
Mrs. Kraah -Amofa feared academic work could be sacrificed, especially, as final year students prepare for their exams.
"The whole of last week, we were engaged in the preparation for the 50th anniversary celebrations so in fact serious academic work didn't go on. Today, we were supposed to start a serious work especially with those who are going to write final year exams. So once this has also happened we are in a mess", she lamented.
School authorities have allocated two classrooms to house the affected students even though it is not adequate.
Meanwhile, Ashanti Regional Minister, Samuel Sarpong, has assured of immediate steps to address the problem.
He told students during a visit earlier this morning, every effort will be made to locate the contractor.
"This is a natural disaster and when it happens, it depends on how fast we are in addressing the situation.
"As at now I have ordered my works superintendents to make sure that the place be roofed immediately".