Catholic University launches 10th anniversary celebration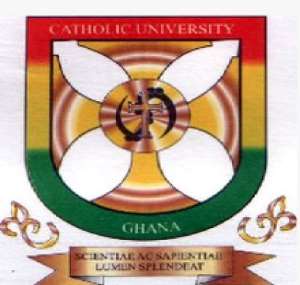 catholic university
Fiapre (B/A), March 4, GNA - The Catholic University College of Ghana (CUCG) at the weekend launched the 10th anniversary celebration of the establishment of the institution at Fiapre in the Sunyani-West District.
The occasion which coincided with the joint eighth congregation and 16th matriculation ceremonies of the University, is under the theme 'Ten Years of Holistic Catholic Education -The Experience of the Catholic University College of Ghana'.
The Most Reverend Philip Naameh, Catholic Archbishop of Tamale and Chair of the University's Governing Council, launching the programme said the Ghana Catholic Bishops' Conference made a Trust Deed in 2001 to establish the CUCG to provide higher education, disseminate knowledge and to foster relationships with persons and bodies outside the University College.
The Archbishop stated the CUCG began with a student population of 50 at the Sunyani Catholic Pastoral Centre in 2003 but now had 4,454 students pursuing various courses at both under-graduate and graduate levels.
Most Rev. Naameh outlined activities of the celebration spanning now and the middle of November this year, saying March 1-3 is the home coming of past students whilst series of lectures are scheduled for April.
There would be fundraising activities in May, sporting events in September, and graduation/matriculation ceremonies in October, while a week-long celebration from October 27-November 1 would precede a climax of the anniversary on Saturday November 9, he added.
The Governing Council Chair announced the climax would be marked with the full compliment of the Ghana Catholic Bishops as that day would also signify the end of their 2013 week-long annual Conference slated for Sunyani.
Archbishop Naameh expressed appreciation to the CUCG affiliate and mentor institutions, the University of Ghana and the University of Cape Coast, for mentoring the university to its current status.
He requested the assistance of the two universities concerning the autonomy of the CUCG and expressed optimism that by the end of the celebration, the CUCG would have been given the Presidential Charter as a full-fledged autonomous private university.
Meanwhile, 679 students graduated after successfully completing degree courses in various academic disciplines while 414 students were also matriculated to pursue courses of their choice at the under-graduate level.
The graduating students were awarded degrees including Bachelor of Science (BSc) in Economic and Business Administration, BSc in Information and Communication Science & Technology (ICST), BSc in Computer Science, Bachelor of Religious Studies, BSc in Public Health, and Bachelor of Education.
Professor Francis Kofi Ampene Allotey, President of the Ghana Academy of Arts and Sciences was the Special Guest of Honour, whilst Professor James Hawkins Ephraim, Vice Chancellor of the University, delivered the matriculation and graduation address.
GNA