Salvage Ghana's Criminal Justice System—CJ Appeals To AG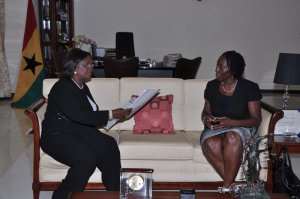 The Chief Justice (CJ), Justice Georgina Theodora Wood, has appealed to the Ministry of Justice and Attorney-General and the Judiciary to urgently salvage the country's criminal justice system, which according to her has completely broken down.
According to her, Judges have been complaining about frustrations they go through in the trial of criminals, by police prosecutors and lawyers, who come to court without criminals.
Mrs. Justice Wood made the call when she received Minister of Justice and Attorney-General, Marietta Brew Appiah-Oppong, her office in Accra on Monday.
The CJ said: "We need to meet with the Police Service to know whether criminal cases that come to their jurisdiction are settled outside court."
She further asked the Ministry to employ more Lawyers to ensure quick and easy prosecution of criminal cases by the Attorney-General's Department.
Mrs. Appiah-Oppong indicated that she called on the CJ to discuss the strengthening of the country's justice delivery system to ensure speedy delivery of justice.
She called for cooperation between the Judiciary and the Executive to improve the justice delivery system in the country.
Present at the meeting was Justice Alex B. Poku-Acheampong, the Judicial Secretary, Mr Suliemana Ahmed, Chief Director at the Ministry, Mrs. Amma Gaise, the Solicitor General and Mrs. Mavis Amoa, Director of Legislative Drafting.