Ministry Drafts New Housing Policy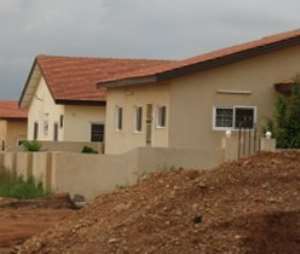 A national housing policy has been drafted by the Ministry of Water Resources, Works and Housing to tackle head on the country's housing deficit which is now in excess of 1.5 million.
The policy focuses on six thematic areas, which are: a national housing vision, goals and objectives; land for housing, housing finance, housing design and construction, institutional reforms and a housing governance.
A director at the ministry, Mr John Tettey, who made this known at a workshop on slums and forced eviction organised by Amnesty International (AI) in Accra on Wednesday, said Ghana's housing deficit was a worrying sight.
According to him, the ministry had developed a Real Estate Bill which was currently before Parliament.
The aim of the bill, he said, was to streamline the activities of real estate developers in the country.
The workshop, which was on human rights education and capacity building, brought together officials from the Accra Metropolitan Assembly (AMA), the Kumasi Metropolitan Assembly (KMA), opinion leaders in some slum areas in Accra and Kumasi and journalists.
It was aimed at creating an understanding of the global campaign to stop forced evictions, achieve legislative change by adopting a housing policy and ensure that the Optional Protocol to the International Covenant on Economic, Social and Cultural Rights (OP-ICESCR) was ratified.
Mr Tettey said to help solve the housing deficit in the country; the Ministry of Water Resources, Works and Housing had reviewed the draft national housing policy which, according to him, was ready for Cabinet approval.
He said the country was only able to produce around 40,000 units per annum, against an annual requirement of 120,000 units, adding that currently the national annual housing supply to demand ratio for new housing was estimated at about 35 per cent.
He enumerated some of the problems causing the housing deficit as rapid population growth and increasing urbanisation, the inability of the housing delivery system to meet effective demand and economic decline during the seventies and eighties in Ghana, combined with rural-urban migration, high unemployment levels, inflation, low levels of savings and investment and inadequate maintenance of urban and rural infrastructure.
Mr Tettey said the government envisioned a situation where everyone was able to access good quality, affordable, secure and appropriate housing, either owned or rented.
He said the new policy would ensure that housing was designed and built to sustainable building principles leading to the creation of green communities and that all stakeholders, along with local communities, would make an input into decisions on housing development and location.
The new housing policy, when passed, he said, would ensure that housing policy and funding enabled a diverse mix of housing in all localities.
The Director of AI Ghana, Mr Lawrence Amesu, said the issues of slums and forced eviction were global and cut across continents.
He enumerated some of the psychological and socio-economic problems associated with forced eviction as the loss of lives, shelter, sources of livelihood, future, as well as psychological trauma.