At least 50 Islamists killed in Mali since Friday: military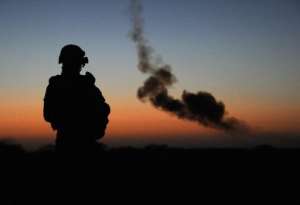 A soldier of the French army watches an explosion from munitions found by the French army, February 14, 2013 in Gao. By Pascal Guyot (AFP/File)
BAMAKO (AFP) - At least 50 Al-Qaeda-linked rebel fighters have been killed in recent days in clashes with French and Malian troops near the town of Gao in northern Mali, a Malian military source told AFP on Sunday.
"Fighting continues on Sunday morning some 60 kilometres (37 miles) north of Gao between Islamists and Malian troops supported by the French army. We have the situation under control," said a Malian military source contacted by phone from the capital Bamako.
"At least 50 MUJAO Islamists have been killed since the day before yesterday (Friday)," he added, referring to rebels from the Movement for Oneness and Jihad in West Africa.