Sugar Sold On Buses As Herbal Medicine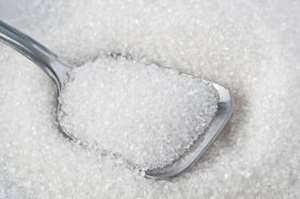 http://www.dailyguideghana.com/wp-content/uploads/2013/03/sugar.jpg SOME UNSCRUPULOUS local herbal medicine peddlers have been captured on tape selling 'Kluntje Kandis' to unsuspecting members of the public, especially the travelling ones.
The 'Kluntje Kandis' are a type of rock candy crystallized from a saturated sugar solution which is mostly used in Germany.
A German-based Ghanaian, Simon Kwaku Badu, the proprietor of Simons Electronics located in Sunyani, recently secretly captured two men in an Accra-Sunyani bound O.A bus busily repackaging the products from their original containers into small polythene to be sold to the members of the public.
Simon, who was on a short trip to Ghana, told DAILY GUIDE that the practice could be injurious to public health, hence his desire to prompt the authorities responsible for public health and safety to take immediate action to fish out those behind it.
According to him, the two men joined the bus around the Konongo area and spoke to the driver's mate. He said they came to the backdoor where he was seated and started repackaging the products.
'I want the general public to be aware and wary of the dangerous activities such people so that they will not attempt buying these so-called medicines being sold in buses and on the market,' he said.
FROM Fred Tettey Alarti-Amoako, Sunyani