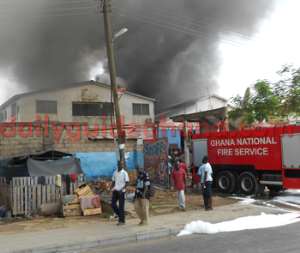 http://www.dailyguideghana.com/wp-content/uploads/2013/03/deluxy_paint.jpg The production unit of Hexagon Industries Limited, producers of Snappy Peanut, De-Luxy and Anchor Gold paints in the Industrial Area, was yesterday gutted by fire.
Production materials worth millions of cedis were destroyed.
An eyewitness, who is also a worker of the company's production unit, said he and some of his colleagues saw flames in a section of the factory and they attempted putting it out with a fire extinguisher to no avail.
'In the process, we heard a big bang and the fire started to engulf the place. All of the workers succeeded in evacuating the building. It is not a place where we keep electrical appliances. We don't know what caused the fire.
The things kept there are kerosene which we use in the production of oil paint. Before you enter the production unit, the security personnel search you and when you are coming out too same, so there is no way that someone started the fire,' the eyewitness narrated.
When DAILY GUIDE arrived at the scene, a thick pall of smoke was seen coming out of the company which shares a wall with the Ghana Carton Box Manufacturing company.
For some time now, companies located at Industrial Area in Accra have been going up in flames, with the causes not immediately known.
According to another eyewitness, the Ghana Fire Service arrived at the place on time and the firefighters did everything to bring the fire under control.  Four other fire tenders joined them after several hours of fire fighting to help speed up the process.
Advertisement
One of the fire officers who spoke to DAILY GUIDE said they had to prevent the fire from spreading to other parts of the company and when they succeeded in doing that, they managed to bring the fire under control.
There were no casualties but a young lady whose name was given as Mary, who was reported to have collapsed when the fire started and was quickly rushed to the Lake Side Clinic, was responding to treatment.
The Greater Accra Regional Commander of the Ghana National Fire Service, DCFO Kwame Kwarteng, said the cause of the fire was not immediately known but that investigations would commence immediately to determine it.
BY Nii Ogbamey Tetteh