Ghanaian Times Camera Man Robbed … Personal Belongings Worth Thousands Of Cedis Carted Away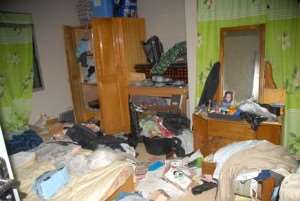 The Eastern Regional Camera man for the Ghanaian Times, Mr. Samuel Opare Lartey, was last week Monday robbed of personal belongings running into thousands of Ghana cedis, while he was at work.
The stolen items included one brand new Gateway laptop, one slightly used Toshiba laptop, three small sized digital cameras, two Nikon D200 Zoom lenses, two mobile phones, and one Nikon camera flash.
Narrating his ordeal to Eastern File, the highly traumatised Times Camera man said he was on official duty covering a programme, when he received a call from a neighbour that thieves had broken into his house.
According to him, he quickly rushed home to ascertain the validity of the call, which was confirmed upon arrival.
The sophisticated thieves, judging from their style, used the back windows after cutting the built -in burglar proof, at a time when his wife had left for work and the children were at school.
The thieves consequently had all the time in the world to patiently search through every part they suspected contained valuables, and in the process scattered all the clothes in the wardrobes on the floor.
The robbery has been reported to the Koforidua Central Police Command, but no arrest has been made so far.