News Analysis From SA: Money, Power Respect: South Africa's Legal System In The Spotlight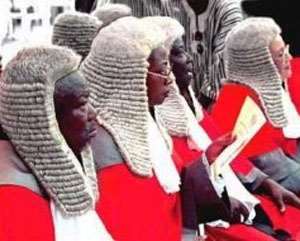 The recent headlines about the deputy captain of the Black Stars, John Paintsil, allegedly stabbing his wife at home is a sharp reminder of how domestic disputes can sometimes escalate with devastating consequences.
Consequences Oscar Pistorius, a 26 year old South African sprint runner is facing the realities of since he has been charged with the premeditated murder of his then girlfriend, 29 year old Reeva Steenkamp on February 14th Valentine's day of this year, by shooting Reeva in the head, hip and arm as she hid behind a closed bathroom door. Oscar 26 claims he mistook her for an intruder and strongly denies the charge of premeditated murder.
In South Africa a conviction of premeditated murder attracts a sentence of 25 years to life and trial is by judge and not jury since South Africa abolished jury trials in 1969 while the country was under apartheid due to fears of racial prejudice by white jurors.
This case would not perhaps have led to such widespread international headlines had Oscar not been the first amputee to win an able-bodied world track medal in the 2011 World Championships in Athletics and in the 2012 Summer Olympics, the first double leg amputee to participate in the Olympics when he entered the men's 400 meters race.
Undoubtedly Oscar Pistorius has captured the world's attention with his triumph over adversity and struggles as a bullied child to be the first of his kind, a world class athlete that had both his legs amputated below the knee when he was just 11 months old.
Why a verdict of 'not guilty' is possible in this case
What is now drawing more attention as this case glaringly unfolds before the public eye however is that money, power; respect may buy Oscar a lot of favour during his murder trial which looks like its heading to a not guilty verdict based on technicality, namely, contaminated police evidence, conflicting statements and an unestablished motive.
A bloodied dead woman, a nation's rising anger over the relentless rate at which crime is committed against women and even the more serious charge of pre-meditated murder does not seem enough to keep an accused in jail eight days after the alleged shooting; since Oscar is on bail as both the prosecution and defence teams feverishly prepare for the main criminal trial which could take place in as much as one year from now.
Bail was set by the judge at £73,822 to the dismay of human rights and female advocate groups. Perhaps understandably so, since statistics show that tens of thousands of women and children in South Africa suffer from an overwhelmingly high rate of domestic abuse and violence, with South Africa having the highest rates of murder and rape in the world, as well as other forms of violence directed at women.
Holes in Oscar's version of events
The bail judge in Oscar's case pointed out holes in Oscar's story which may prove important when the case finally goes to full criminal trial. He asked why Oscar had not ascertained Reeva's whereabouts, why he had not verified who was in the toilet and why Reeva did not scream back from the toilet, among other questions.
With an expensive legal team, the passing of time before the trial, contamination of evidence and a world-class athlete in a league of his own; who did before this incident bring South Africa widespread acclaim as well as accomplish the seemingly impossible task of effortlessly transcending racial lines in a deeply dived country, the chances of Oscar being freed at trial based on technicality is extremely high.
Oscar Pistorius's aunt is a top murder expert
This is a case that is taking more twists and turns as the days unfold with the recent revelations that the aunt of alleged murderer Oscar Pistorius is one of South Africa's leading criminal profilers, 52 year old Micki Pistorius. As a profiler she is a trained expert in helping investigators accurately predict and profile the characteristics of criminal offenders, a skill she may very well adopt in aiding her nephew's case.
She is the author of many criminal profile books including 'Profiling Serial Killers and other crimes in South Africa' and spent six years in the country's police department as founder of an investigative psychology unit. During her role, she was involved in more than 30 serial killer cases and helped train nearly 200 detectives in the investigation of serial homicides.
A role that may further prove advantageous to Oscar's defence strategy which seems to have already taken shape given that during his bail hearing, the lead detective on the case Detective Botha was dropped since it was revealed he faces several attempted murder charges.
Although South Africa's top police detective Lieutenant Moono was quickly appointed to take over the case, the damage may already have been done to the prosecution's criminal case since crucial evidence has been called into question by the bail judge Mr. Nair who strongly criticized Detective Botha's testimony during the bail hearing for making several errors and concessions during cross-examination, 'blundering' on description of substances by saying testosterone and that the detective's perception of distance was 'astounding' when he discussed how near witnesses were to Oscar's home.
Why a detective facing serious attempted murder charges would himself be asked to lead such a high profile case and then be speedily removed is unfathomable to say the least and highly unusual in any jurisdiction, unless that is, a strategy has already been put in place to taint and discredit key parts of the evidence before the case even sees the inside of a criminal court room.
In the past, Micki Pistorius, the accused's aunt has made controversial comments about killers saying: 'Serial killers are not monsters; they are human beings with tortured souls. I will never condone what they do, but I can understand them.'
Perhaps she may indirectly also be able to make a court of law understand her nephew during his trial by profiling the case in such a way that will help his defence team put him in the best light possible given the harrowing circumstances of the case. The evidence could also be couched in such a way that enough holes in the case would lead the murder trial judge to rule that the prosecution has not presented sufficient to satisfy a charge of pre-meditated murder.
Money, power respect: Legal Strategy
Money, power respect is also something one is reminded of when watching a recording of Oscar's uncle Arnold Pistorius as he gave a statement to the press on behalf of Oscar's family when it was announced that Oscar would be released on bail. He stated how grateful the family was to Oscar's legal team who he said delivered extremely professional and legal statement that led to the decision for bail to be granted in his favour.
Although everyone is entitled to spend money on the best legal defence team possible, it is sad to say that a rich man has more chances of getting out of a murder conviction than a poorer one for the same crime. Lest we forget how O.J Simpson famously won his criminal defence bid whilst losing his civil case on the same matter.
Coincidentally when Oscar was granted bail, it was revealed that the athlete's brother is currently facing a culpable homicide charge because of a roadside death of a female motorcyclist in 2008.
Money, power respect: Damage Limitation
Oscar during his bail hearing seemed more demure than the impression given by some of his friends who have described him as somewhat arrogant and an occasional recreational drug user.
With Oscar's head constantly lowered and eyes closed when he was standing in the dock throughout the bail hearing, one can't help but wonder whether Oscar's public relations is being managed with an aggressive coaching strategy in this period of intense international media interest, one that is being expertly managed by former British Sun newspaper editor Stuart Higgins who was hired by Oscar as his PR consultant, a man who speedily flew to South Africa as soon as news of Reeva's fatality broke in the media.
Legal problem South Africa faces
The legal problem South Africa faces is more of a systemic procedural nature than a strictly legal one. As this case is already showing, South Africa has a strained police force that's not particularly well-trained, is overloaded and struggling with issues of corruption within the police force and to some extent the prosecution service.
Moreover, wealthier South Africans had access to better legal resources than most of their compatriots since money buys a degree of protection, perhaps a universal problem but not one that will comfort the family of a young woman who should have had the chance to live out her life before it was so crudely cut short.
In March of 2012 the South African government's midterm report noted that "since 2009, investigations have uncovered 1,529 persons in the criminal justice system who were possibly involved in corruption-related crime. For the year April to September 2011, 192 officials were criminally charged regarding corruption, resulting in 86 officials being convicted; while a further 296 officials were departmentally charged. Figures that may not necessarily improve when Oscar's criminal case is finally concluded.
The Curse of Nike advertising campaigns
Perhaps more of an unfortunate happening than a curse but three of Nike's largest sponsoring campaigns have faced widespread controversy because of tainted sponsorship partnerships with sportsmen who subsequently became embroiled in very public scandals. Most recently with Oscar Pistorius since the sports clothing giant Nike removed an advertising campaign on its website that featured Oscar in a green and black bodysuit while running on his artificial legs, an advert which was accompanied with the ironic words "I am the bullet in the chamber."
Nike also pulled its sponsorship of disgraced cyclist Lance Armstrong last October, a cyclist of international renown who admitted to cheating during his races with performance-enhancing drugs in a recent interview with Oprah Winfrey.
Although Tiger Woods also proved controversial for Nike after the golfer admitted cheating on his wife, Nike decided to stick with Woods perhaps because Woods achieved his athletic success without cheating, while Armstrong resorted to drugs.
Conclusion
Since more recent reports after Oscar's bail hearing have revealed that the results of the post mortem on Reeva's wounded body show that she had sustained horrific head injuries and that a bloodied cricket bat was found at the scene of the crime, let us watch with keen interest whether it is indeed true that money, power, respect can buy a man his freedom even whilst facing a serious and seemingly culpable murder charge.
Amanda Clinton is a Barrister and Lay Pastor who runs a Sunday life course 'THERE MUST BE MORE TO LIFE THAN THIS' every Sunday at the Girl's Guides Association in Achimota near the police station from 2.30 pm to 3.45 pm. Amanda's more recent articles are available at amandaclinton.com