PNC Parliamentary Candidate, two others remanded for swindling MP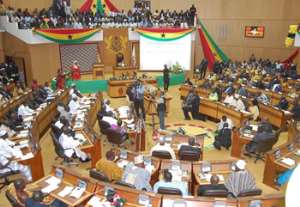 Parliament full new
Accra, Feb 27, GNA - A parliamentary candidate for the People's National Convention (PNC) in the 2012 general elections, Humni Sinari, and two others were on Wednesday remanded by an Accra Circuit for defrauding a Member of Parliament of 180,000 cedis.
Humni, a teacher, Kojo Opoku, a carpenter and Kofi Ernest a trader, allegedly collected the money under the pretext of selling to Mr Cassel Ato Forson MP for Ajumako-Enyan-Essiam, an abandoned filling station at Dome in Accra
Charged with conspiracy to defraud and defrauding by false pretences the three accused have pleaded not guilty.
The court presided over by Mr Francis Obiri refused them bail saying if the accused persons were granted bail they might interfere with police investigations  although the charges leveled  against them did not constitute those that bail should be refused.
According the trial judge, the police needed to be given ample time to complete with Police investigations.Mr Emmanuel Bright Akoto, defence counsel, prayed for bail saying the accused persons were responsible persons only exercising their legitimacy of their trade within the country.
According to Mr Akoto, his clients had fixed place of abode and they were ready to appear in court whenever they were needed to stand trial.
Chief Superintendent of Police Duutu Tuoruka prayed the court to remand the accused persons as the police had not completed their investigations and they might interfere with investigations.
According to him, the police were yet to arrest one Alhaji Alhassan whom GH 160,000 cedis were handed over to to double the amount.
Chief Supt. Tuoruka said the complainant; Mr Forson is the Managing Director for Omega Energy Limited an oil marking company. Accused persons reside at Ashalley Botwe and Dome respectively.
Sometime in 2010, the three accused persons informed the complainant that they were offering for sale an abandoned Engen Filling station at Dome, Accra.
Prosecution said the accused persons, provided the complainant with the necessary documents of the filling station but it bore the name of one Rose Omaboe, a Prison Officer residing at Sunyani in the Brong-Ahafo Region.
They went ahead and provided the cell phone number of Omaboe and she confirmed the story of the accused persons.
Sinari went ahead to say that she was the first born daughter of Alhaji Sadik Sinari, Ghana's Ambassador to Egypt under the First Republic.
The Complainant after inspecting the facility, on February 16, paid GHc 180,000 into an account of the S-G SSB branch at Tudu in Accra and the money was cleared on the same day.
Prosecutions said investigations revealed that the filling state did not belong to Sinari.
According to prosecution, the Police had only managed to retrieve GHc 20,000 cedis from Sinari and she (Sinari) indicated that she gave the money to Ernest who also gave it to one Alhaji Alhassan to double the amount.
 
 GNA