Tamale Teaching Hospital leads in endoscopy services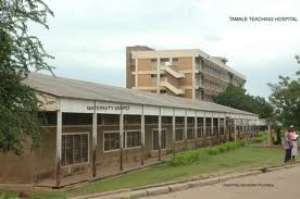 Tamale teaching Hospital
Tamale, Feb. 27, GNA - More patients are patronizing the Tamale Teaching Hospital for the treatment and care of endoscopy making it the number one hospital in the country offering such special treatment. and care in endoscopy thus making more patients to troop from Accra and other parts of the country to the North.
Dr. Ken Sagoe, Chief Executive Officer of the Tamale Teaching Hospital disclosed this in Tamale on Wednesday during the 2012 annual performance review meeting which was attended by staff members
The review meeting was to take stock of their performance and to plan ahead of the year.
Dr Sagoe said 'In our Endoscopy and Minimal Access Therapy Unit, 1,284 cases were seen and treated. The statistics available to us indicate that we are currently experiencing reverse referral of cases from the Accra /Tema area to the Tamale Teaching Hospital for Endoscopy services', he emphasized.
He said in neurosurgery, the Tamale Teaching Hospital is now the leading Centre in Ghana for microsurgery of spinal conditions, noting that the number of deliveries increased over the 2011 number of 7,161 to 7,322 with 47 maternal deaths.
Dr. Sagoe said the number of sick neonates or premature babies admitted to the Neonatal Intensive Care Unit (NICU) almost increased by 100% while the number of children seen for malnutrition also increased.
He said the hospital now has two Oxygen plants and was self sufficient in Oxygen production and would no longer have to buy Oxygen from Kumasi or Accra.
He said the Hospital would also be the centre in the Northern zone, providing Oxygen to the National Ambulance Service as well as supporting some few District and Regional Hospitals with their Oxygen supply.
Dr Sagoe noted that the Hospital Rehabilitation and Expansion project recorded a major landmark with the completion and partial handing over of the new Block E, the Flagship structure of Phase one of the project and currently provides services for Emergency Medicine, Radiology and other imaging facilities.
He said the hospital spent GHc1.2 million last year to retain critical staff while GHc1.550 million was spent between 2010 and 2012 in accommodation for staff.
He said the National Health Insurance Scheme (NHIS) was indebted to the hospital to the amount of GHc2.2 million and that the delay in payment was having a negative impact on the operations of the hospital and appealed to the Ministry of Health to assist the hospital to overcome its difficulties.
'Regular, uninterrupted and stable Electricity supply continue to elude us and the toll on our generators by way of wear and tear and fuel cost is very high.
The significant fluctuation in power and the 'dumso', 'dumso' has also damaged some of our equipment', he said.
Alhaji Alhassan Issahaku, Northern Regional Coordinating Director commended the hospital for promoting quality healthcare delivery and encouraged them to continue pursuing positive initiatives that would ensure good health to the citizenry.
 
 
GNA