Access to portable water impedes economic development of rural women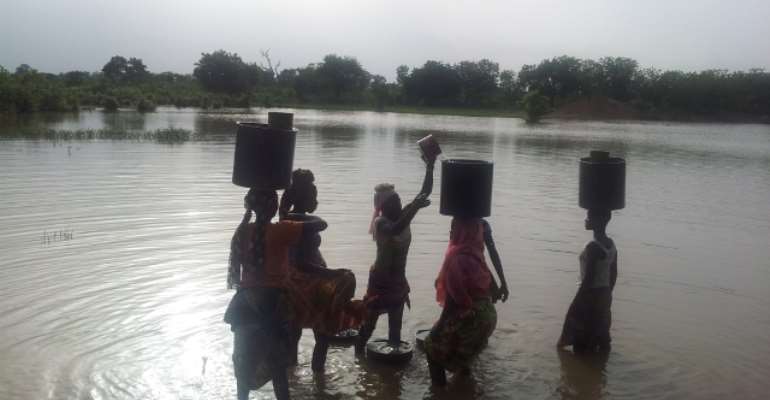 Bolgatanga, Feb. 26,  GNA- The Mirigu Woligum Women Traders Association, a women's group at Mirigu in the Kassena-Nankana West District of the Upper East Region is calling on government to provide them with portable water  to increase economic productivity among women in the community.
Members of the association, mostly farmers, Shea butter extractors, potters, basket weavers and traders spend much of their time travelling long distances in search of portable water, leading to low productivity and poverty.
This was contained in a press statement issued by the leadership of the group and copied to the Ghana News Agency (GNA) in Bolgatanga on Tuesday.
It said the situation forced the youth of the community to migrate to the southern parts of the country in search of non-existent jobs, saying that, the nearest source of water to the community was over 5 kilometres away.
'The absence of a dam or dug-outs  puts so much pressure on the nearest borehole as women and others wait long hours in queues to fetch water', it added.
According to the statement, several appeals to the district assembly and other opinion leaders had yielded no results, also efforts to improve access to water to promote economic activities of women entrepreneurs in the area had proved futile.
'Meanwhile, the women are struggling and trying to make do with the situation as production levels have been low over the years. Individuals who could have earned GH¢3,000 to GH¢4,000 in a year are only able to make GH¢50-GH¢100 annually', the statement indicated.
The statement further indicated that with financial support from BUSAC fund, members of the association had been taken through training on advocacy skills and public sensitization on the need for government to provide portable water to the community.
Mirigu Woligum Women Traders Association was formed in 2002 with the aim of increasing business income among women entrepreneurs.
GNA