Navrongo Market fire disaster renders many jobless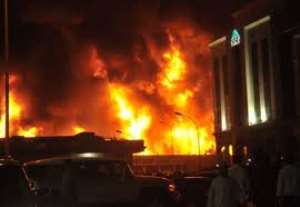 fire 2
Bolgatanga, Feb. 27, GNA - The Navrongo youth Agenda for Development, a youth group in the Navrongo Municipality has expressed dismay about t the fire that engulfed the Navrongo Central Market at the weekend leaving many traders jobless.
Many stores and sheds were destroyed and the cause of the fire was yet to be established, as a Municipal Security Committee has been set up to investigate the circumstances that led to the disaster. 
This was contained in a press release issued and jointly signed by the leadership of the group, Mr Amos Ayuure and Mr Jocob Addah and copied to the Ghana News Agency in Bolgatanga on Tuesday.
The statement said affected traders had suffered huge losses and had their economic situations exacerbated by the disaster as the general economic conditions were unfavourable.
'We wish to express our commiseration to those who lost their property through the fire and commended the gallant men and women of the Ghana National Fire Service in the region for their swift intervention in bringing the situation under control', it said.
The group further commended the Police in the Municipality for being professional and ensuring that sanity prevailed during the period of the disaster.
It however appealed to the government, benevolent organizations and individuals to as a matter of urgency come to the aid of the victims of the disaster to mitigate their loss.
It expressed the need for the Municipal Assembly and traditional authorities to decongest the Township and remove all unauthorized structures to create routes through the town to facilitate easy access to the market in times of such disasters.
'We the youth have resolved to place ourselves at the service of the assembly to effect such decongestion. We urge individuals, organized groups and traditional authorities to cooperate with the assembly and government when the decongestion and reconstruction of the market begins' it added.
 
 
GNA