Tennis : Venus beat Mirjana and won her 1st round match -Video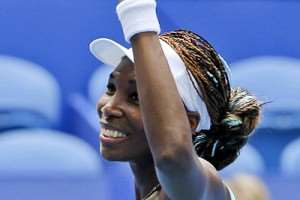 She may have needed eight match points to do it, but Venus Williams beat Mirjana Lucic-Baroni in her first round match at the WTA Brasil Tennis Cup.
On Tuesday in Brazil, Venus Williams won her beginning match match for the WTA Brasil Tennis Cup campaign beating fellow veteran Mirjana Lucic-Baroni in a rain-delayed first round match.
Both players put some impressive power on display but it was the No.1-seeded Williams who was the steadier of the two throughout, taking it, 63 63. Things got close towards the end – Lucic fought off seven match points to close from 0-5 to 3-5 in the second set – but Williams finally closed it out.
"At 5-0 I was a little too confident and maybe playing a little too relaxed, but she also started playing really well and really aggressive on those match points," Williams said. "She brought out her best tennis. It showed a lot of character from her. It's easy to give up when you're down 5-0, but she did really well to make it closer in the end. I knew it was just a matter of time before I got it, though."
Williams and Lucic-Baroni were playing for just the second time, the first time coming all the way back in 2002 at the US Open – one would think there would be some déjà  vu from Williams, but no.
"I don't remember that match at all," Williams said. "It's been a long time – 11 years. I don't know if she even remembers it. But she's always been a power player. I don't think much has changed."
Williams also expressed how much she was looking forward to taking the court for a match that was originally scheduled for Monday night. "We were waiting from last night and this afternoon, too, but the rain was holding us back. I hadn't played a match for four weeks and was really looking forward to just finding some rhythm and hitting some balls, and trying to compete.' That's what I really wanted.
"I felt I was ready to play. I'm happy the rain stopped and that we were able to finish."
Watch the video here : http://www.youtube.com/watch?v=00-PHlPRFoM