Muslims congratulated for observing Ramadan month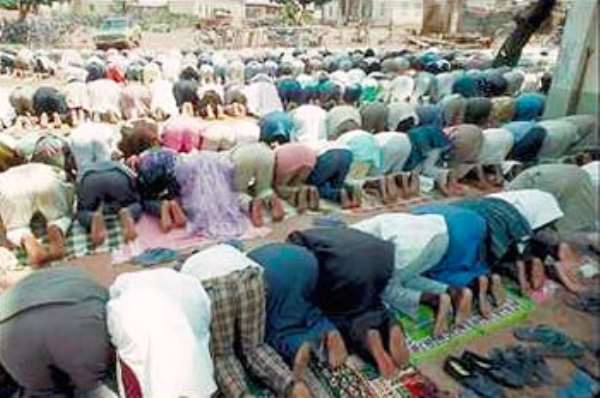 Members of Parliament on Friday congratulated Muslims in advance towards the I'd-ul-Fitr Festival, to mark the end of one month of Ramadan.
Alhaji Malik Alhassan Yakubu, Member of Parliament for Yendi made the Statement to mark the occasion that falls on next Tuesday adding that proper observance of Ramadan instils in the Muslim high disciplined life.
He said the abstinence from eating and drinking from dawn to sunset is not all that there is to Ramadan, but that it is also a period of physical, moral and spiritual training for the Muslim to prepare him for quality life on earth.
Alhaji Yakubu said, "Fasting is a potent tool prescribed by the Almighty God for man to use to exercise control over his passions and unbridled desires so as to attain nearness to his Creator.
He said fasting is not unique to Islam alone since Messengers of the Almighty God in the past such as Moses, Abraham and Jesus Christ observed fasting whenever they needed to embark on important spiritual endeavours.
The Member said one physical lesson of fasting worth mentioning is that it's compulsory to all Muslims whether rich or poor, high or low so that all must experience hunger with the only exception being the sick, pregnant women and those on a journey.
"Ramadan is thus an institution that ensures that all manner of people experience hunger at least one month in a year so that they appreciate what the poor and deprived in the society go through when they have nothing to feed on", he added.
Alhaji Yakubu said another lesson one learns during the month of Ramadan is that for the fear of Allah one can keep away from what is not lawful and learn to abstain from corruption and illegal acquisition of material wealth.
He said the Muslim observes prayers at five different times a day and during Ramadan, the Muslim is enjoined to intensify his prayers and devote large part of the night in prayer and meditation.
Mr M. A. Seidu, NDC- Wa Central commended the previous government for instituting a national holiday for Muslims to observe the month of Ramadan.
Capt. Nkrabea Effah-Dartey, NPP- Berekum said the occasion should be commended by all since Christians also occasionally fast as their sacred religious right to achieve spiritual upliftment.
Dr Mustapha Ahmed, NDC- Ayawaso East said the month of Ramadan places a high medical condition on the people since it helps check such ailments as obesity and some forms of diabetes.
Mr Felix Owusu-Adjapong, Majority Leader said the month of Ramadan is an important time for mankind and the country needs to use the occasion in its spiritual upliftment.
Alhaji Mohammed Mumuni, NDC- Kumbungu said religious tolerance is very rife in the country and for its consolidation the month of Ramadan should be used in re-enforcing social relationship and brotherhood.
Mr E.T. Mensah, NDC- Ningo/Prampram said as an associate Muslim the message humility is paramount during the month of Ramadan and that the idea of ablution is an indication of cleanliness.
He called for Ghanaians to pray for unity and peaceful co-existence and to use the occasion to pray for the capture of those who killed the Ya-Na.
Alhaji Yakubu Alhassan, NDC- Nanton urged Muslims to desist from all vices and entreated Muslims to continue to be steadfast in their prayers.
Alhaji Hudu Iddrisu, NDC- Gushiegu/Karaga condemned clashes between Muslims sects in the country and urged all believers to stand against religious violence that might disturb the peace being enjoyed in the country.
Mr Kosi Kedem, NDC-Hohoe South said the month of Ramadan ensures self-denial, sacrifice and discipline to members of the religion adding that the observance of the five daily prayers is an indication of the dedication and desires of being with their makers.
Mr Balado Manu, NPP-Ahafo Ano South called on Muslims to use the occasion to embrace modern education as a tool for their development and to make efforts of blending Islamic and secular education.