I'm Sorry - Paintsil Regrets; As He Insists He's Not Violent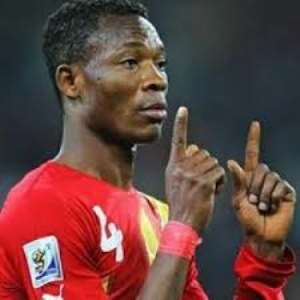 John Paintsil
Black Stars defender, John Paintsil, has apologised for a family feud which landed him in the grips of the police last Friday following a scuffle in which he hit his wife at his plush Trasacco Valley residence.
However, the player insists he is not a violent person but only lost his cool during a heated argument and the attack on his wife was "regrettable".
Paintsil, who is the deputy Black Stars captain, was last Friday invited to the Legon Police after a report of assault on his wife, Mrs Richlove Paintsil, and an unnamed man, was made.
Paintsil, who was granted an unconditional bail last Friday night, will be assisting the police in their investigation. He was, however, worried that the incident had wrongly created an image of him as a violent person.
"I'm sorry about what has happened in the past few days. But I want to stress, particularly to the young ones who look up to me, that I'm not a violent person in character. What happened was just unfortunate."
"It was a misunderstanding which happens in many marriages every now and then, but our argument got out of hand. I lost my temper and threw a punch which unfortunately hit my wife and injured her in the process".
"For the almost 13 years that we have been married, I've never raised my voice at my wife, let alone hit her. I really feel sorry for what happened and on hindsight, I believe I should have controlled my temper no matter how provoked I was," a remorseful Paintsil admitted in an interview with the Graphic Sports Sunday.
Trying to lighten up, he likened the situation to what sometimes happens on the field of play when a player gets so provoked by an opponent that he retaliates and gets caught by the referee. If unlucky, and depending on the offence, the culprit could receive the red card. "In this instance, I would say I was shown a red card."
The Hapoel Tel-Aviv defender gave an assurance that he has since patched up with his wife but was surprised at the manner in which people jumped into conclusion when the news broke.
"I must say I was disappointed at the manner in which the police PRO rushed to comment on the issue when he did not have all the facts. That added to the impression that I'm violent, resulting in all manner of attacks on my personality in the media and social media."
Mrs Paintsil, sporting a plaster on her left eyelid, did not speak much but said, "It's one of those incidents that happen in marriages. And as you can see, I've not been stabbed as had been alleged. I'm fine and I hope for the sake of my young children in particular, this issue would be put to rest. Our marriage is not the first one to go through this and I must stress that my husband is not violent.
Asked why she ran to a neighbour's house for cover in the heat of the argument, Richlove said she got frightened because she had never seen her husband in that kind of rage before and felt she had to leave the scene to calm things down but did not realise it would rather worsen the situation.
Unwilling to disclose what could have sparked off the argument, the couple denied that it had anything to do with the allegations of Paintsil engaging the services of prostitutes during the Black Stars' participation in the 2013 Africa Cup of Nations in South Africa recently, or as a result of an issue over substantial amount of money as was alleged after news of the fracas broke.
Late last Friday, news broke of the arrest of Paintsil by the Legon Police for allegedly stabbing his wife and assaulting a neighbour who reported the case to the police.
However, it later emerged that Paintsil was invited to the police for interrogation. He was granted bail the same night when his wife impressed upon the police not to press charges on her behalf.
It remains unclear if the neighbour, whose identity has not been disclosed but is believed to be influential in the local business community, would press charges.
Graphic Sports yesterday gathered that the hierarchy of the Ghana Football Association (GFA) was arranging to meet Paintsil's neighbour for an amicable settlement.