Visa contractor to spend ten years in jail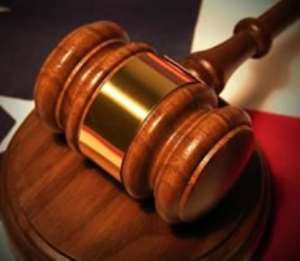 Jonathan Kweku Ahowi, a driver, has been sentenced by the Tarkwa Circuit Court to 10 years imprisonment for defrauding ten workers of the Golden Star Wassa (GSW) Mine in Bogoso.
Ahowi, who pleaded guilty, was accused of defrauding the workers to a tune of 24,867.00 Ghana cedis.
Detective Chief Inspector Oscar Amponsah told the Court presided over by Mr Samuel Obeng Diawuo that the complainants are dumper operators working with GSW mine while the accused is a resident at Atekyem, a suburb of Bogoso.
Inspector Amponsah said during the month of May, last year, the accused approached the first complainant Dickson Nkrumah saying his brother had arrived from the United State of America and was recruiting dumper truck operators to secure employment for them abroad.
He said the complainant showed interest in the proposal and likewise informed fifteen of his co-workers who equally expressed interest in the deal.
Inspector Amponsah said all the complainants met the accused to ascertain the fact and he confirmed the story to them and asked each to pay 7,000 Ghana cedis for the processing of their documents, visa and ticket.
He said the complainants pleaded with the accused for reduction but he maintained the figure and asked Collins Agbesime, now at large, authorizing him to collect 2,000 cedis from each person so that they pay the remaining 5,000 cedis after they have been sent to USA.
He said based on that each of the ten workers paid an amount of 2,000 cedis and above which amounted to 24,867 cedis.
Inspector Amponsah said the accused after collecting the money introduced a young man to the complainants as their employer from USA and he had some discussions with them.
He said the young man "employer" later left for the USA in August and has since not returned.
Inspector Amponsah said the complainants later realized that they have been defrauded and made a formal report to the police and this led to the arrest of the accused.
He said efforts are being made to trace and apprehend the second accused person.