Gunmen kill senior policeman in restive north Nigeria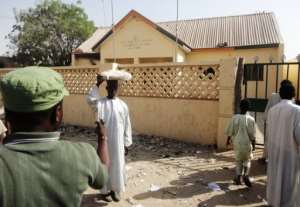 A street vendor passes by a partially burnt police station in the northern Nigerian city of Kano on January 25, 2012. By Aminu Abubakar (AFP/File)
KANO, Nigeria (AFP) - Gunmen shot dead a senior police officer in northern Nigeria on Monday as he stood outside his home, the latest targeted killing in a region hit by waves of violence, police said.
Islamist group Boko Haram has killed hundreds in north and central Nigeria since 2009, often targeting senior political leaders and members of the security forces, but there was no claim for the latest shooting.
"The commander of our Mobile Police Unit (Dahiru Musa Majia) was shot dead by some gunmen while standing outside his house," said Musa Daura, the police chief of Kano state.
The attack occured in the state capital Kano, the largest city in Nigeria's mainly Muslim north.
Boko Haram has been accused of killing a series of politicians in Kano in recent weeks, although criminal gangs have also carried out violence under the guise of the notorious group.
Separately, a video appeared on YouTube Monday of seven kidnapped members of a French family with their abductors, who claimed to be members of Boko Haram.
It is however not clear if the Nigerian extremists were responsible for the February 19 abduction of the French nationals just over the border in neighbouring Cameroon.
Boko Haram has never before claimed the kidnapping of a Westerner during its violent insurgency.