Darfur tribal fighting 'killed 510' in 7 weeks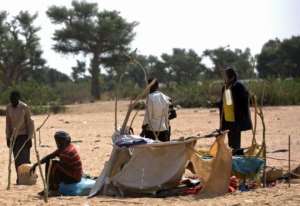 Sudanese minors take refuge in Saraf Omra, on January 13, 2013, after fleeing the Jabel Amir area due to clashes. By Rania Abdulrahman (UNAMID/AFP/File)
KHARTOUM (AFP) - More than 500 members of an Arab tribe in Sudan's war-ravaged Darfur region have been killed and almost 900 wounded in seven weeks of clashes, an MP representing the district said on Monday.
The toll is far higher than figures previously given for the fighting between the Rezeigat tribe and rival Arabs from the Beni Hussein group in the Jebel Amir gold mining area of North Darfur.
Aid workers say the fighting has caused the region's largest uprooting of the population in years.
"The number of martyrs from January 6 until February 23 is 510, including women and children. Another 865 were wounded," Adam Sheikha told reporters. He said all the casualties belonged to his Beni Hussein tribe.
MP Sheikha represents El Sireaf district where the violence has been concentrated.
It is unclear how many Rezeigat were killed.
Sheikha said that 68 villages had been burned to the ground, with 120 partly burned, and that 15 women were raped.
In the latest attack, on Saturday, residents in El Sireaf town said a Rezeigat militia fired heavy machine guns and rocket-propelled grenades, burned houses and killed more than 50 people.
Peacekeepers on Sunday airlifted 37 wounded civilians, including a woman and two children, for treatment in the state capital El Fasher, the African Union-UN Mission in Darfur (UNAMID) said in a statement late Monday.
Up to 200 died during clashes in January, Amnesty International said earlier, adding that Sudanese security officers were reportedly involved.
Sheikha, of the ruling National Congress Party, said the militia who carried out the weekend assault "came on government vehicles carrying state-issued weapons and they got their salaries from the state."
Attempts to reach a Rezeigat source were unsuccessful.
North Darfur governor Osman Kbir said on Monday that officials were "containing the situation and normalising life at El Sireaf locality after intervention of the armed forces," the official SUNA news agency reported.
But Sheikha said militia are surrounding the displaced who are confined within an area of seven square kilometres (2.7 square miles).
On Tuesday Darfur marks 10 years since rebels from non-Arab tribes began an uprising against the Arab-dominated government.
However, "the major issue" in the region now is not rebel attacks but "ethnic violence" such as that in Jebel Amir, Darfur's top official Eltigani Seisi has told AFP.
He admitted that government-linked militia in North Darfur have "committed atrocities against innocent civilians" but he said the armed groups are to be disbanded.
The UN said 1.4 million people were already living in camps for Darfur's displaced before the Jebel Amir violence.
It cited figures from the government's Humanitarian Aid Commission which said about 100,000 people had been displaced or severely affected by the inter-Arab fighting since January.
Sheikha gave a higher number, saying 20,000 families had been uprooted, which would mean around 200,000 individuals.
"Most of them are living under trees, taking residence in schools and government offices. They are in a bad humanitarian situation, bad health situation. The students cannot go to school," he said.
Ali Al-Za'tari, the UN's resident and humanitarian coordinator in Sudan, expressed "profound concern about the safety and well-being of civilians in El Sireaf town", where most of the displaced sought shelter since January.
"Humanitarian organisations have been coordinating closely with local government authorities and with the UNAMID peacekeeping mission in Darfur to deliver urgently needed surgical supplies and to evacuate seriously wounded people," Za'tari said Monday.
Mohamed Yonis, UNAMID's officer in charge, said that he hoped "tensions in the area will ease and the reconciliation process will resume" in coming weeks.